On a warm, lulling Sunday afternoon in late October, the Barnettes' black sedan halts sharply in front of a blue bungalow home in east Charlotte and out pop the girls in long pants. They seem to be the only people in Charlotte too busy to notice the day's midsummer feel. The Barnettes have skipped out on church early. Daddy Barnette, a minister, pardoned them. Their family band takes priority in an already-packed Sunday schedule. Church. Brunch. Practice all afternoon. Band meeting. Then Kristen and brother Rufus are off again to colleges in Winston Salem and Greensboro, respectively. It's a normal weekend.
click to enlarge
Today the Barnettes have to cram in an interview and then start prepping for their big break. The siblings are taking their act to the next level: an early December audition with Mallet Records, a jazz and R&B label in Atlanta. At the Midatlantic Music Conference in Charlotte a month earlier, Mallet owner Jason Taylor had fawned over the Barnettes, and now he wants to hear them try a Latin/Caribbean sound, a completely foreign genre to the quartet.
It's only been two years since Elesha strolled into a guitar store and made her first $299 band investment: a black Ibanez electric guitar. She had never played guitar before but had grown up, along with her siblings, performing classical music -- she on cello, Adrienne on violin, Kristen on viola and Rufus, "the little drummer boy." The siblings admit that playing classical instruments wasn't always their first idea of fun. Each child had a practice log, which their parents made them sign to ensure they rehearsed long enough. The four children toured the area on weekends playing classical music at small, formal gatherings such as bank receptions -- not exactly the typical breeding ground for inspired rock & roll.
"You couldn't really jazz up those instruments," says Adrienne.
"And you can't sing and play the violin," adds Elesha.
What put Elesha in the guitar store in 2003 was her need to reclaim some creativity in her postgraduate life. Her day job at Proctor and Gambol, selling wholesalers on the hydration quality of shampoos, was not exactly the stimulating outlet she was used to at UNC Charlotte. The year before, Elesha had directed her own full-length film. Her friends and family encouraged Elesha to continue in media arts, but after meeting musicians when she was compiling the sound track for her film, she had another idea. She wanted a band.
It didn't take much convincing for her siblings to jump on board. The second edition of the Barnettes formed. In less than half a year, Elesha, Adrienne and Kristen taught themselves new instruments and managed to practice enough on weekends (along with Rufus on drums) while attending separate schools during the week. Giving up weekends for the band means giving up the time most kids spend socializing. But the Barnettes are used to spending time with each other.
The Barnettes are not the only set of siblings who have stuck together for love of music. From alternative teen rockers Justincase to R&B megastars Jodeci, prominent family acts seem to be a Charlotte-area specialty. And there's more: Popular Concord-based indie-grass group the Avett Brothers and Charlotte Latin rockers La Rúa both feature a pair of brothers, as does the experimental twang-rock band the Houston Brothers. Is it Charlotte's family-friendly vibe or just the Southern tradition of placing family above all?
Psychotherapist and performance coach Phil Towle says bands are in many ways already like families, and if a culture of love and respect is developed, a healthy group dynamic will exist. A functional family band consists of members who feel valued equally: "If Johnny is a better lead guitar player than I am, I can pick up the bass because I feel like I'm a part of something."
To Elesha Barnette, sharing a bloodline with her band mates is a positive. "It's an opportunity to get to know each other as adults," she says. "Most siblings are growing apart from each other at this age." Before the band, for example, Elesha would never have figured her brother Rufus possesses the poetic capabilities he's shown in the lyrics to his songs, such as "These Walls."
click to enlarge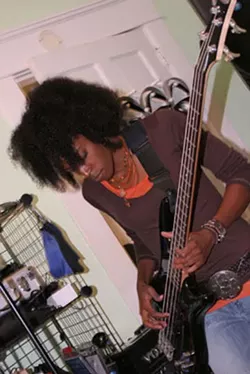 "It's about a girl who's done me wrong," Rufus says.
What's more, the siblings' familiarity helps in the collaborative process. For the song "Half Way," Elesha had written the lyrics, "I want to meet you half way." Adrienne tweaked it a bit to "Will you let me meet you half way?" It may seem an insignificant change, but to Elesha, "it turned the song into something everyone could relate to." Someone who didn't know her as well as Adrienne couldn't have sensed what Elesha was going for.
As a performance coach, Towle has worked with bands like the Barnettes as well as with businesses and sports teams. He has a Super Bowl ring from his work with the St. Louis Rams and he also helped the former members of Rage Against the Machine deal with the desertion of their charismatic lead singer Zack de la Rocha. Most famously, Towle appeared in the Metallica documentary, Some Kind of Monster. In the film, he is seen urging the rockers to open the line of communication and consider each other's feelings.