With hundreds of bands and dozens of venues around the area, there's no way one article can tell you everything about the Charlotte Music Scene. But, at the very least, we can give you some tips to help you be a part of it.
From the big shows at Verizon Wireless Amphitheatre to intimate ones at The Evening Muse, Charlotte offers a little of everything. We've got soul and jam bands. There's rock and rockabilly, jazz singers and acoustic open mic nights.
And whether you're starting a band or looking to enjoy one, the key thing is this: you can't experience any of it at home. Get out there and support your local musicians and music scene.
click to enlarge
We asked a variety of insiders, promoters, club owners, band members and music fans for their opinions and tips on navigating the music scene in the Queen City -- for bands and for fans. Here's what they said:
What do you like or want to change about the Charlotte music scene?
"More all ages shows. Good music should be for everyone to enjoy, not just those old enough to drink." -- Scott Wishart, owner of Lunchbox Records
"I think the scene here is pretty healthy. Of course, it would be nice if more people came to shows, but that's true everywhere. I think it would be great if shows started a little earlier, like they do in most places." -- Mark Lynch, bassist for Lou Ford/Hot Rod Grease Lightning
"One thing I like about the Charlotte music scene -- and it's a lot better than the writers tell everyone -- is that there is so much diversity within the clubs. Amos,' Visulite, Neighborhood, Tremont, DoubleDoor, Milestone are all good live venues and each has their own distinctive flair. A lot of cities the size of Charlotte don't have that many live entertainment clubs." -- John Ellison, owner/janitor/bartender/bouncer, Amos' Southend
"I would like to see the people here open their minds to new music and support it. Then and only then can we have some real good music come through here." -- Michael Kitchen, promoter/events coordinator, The Sol Kitchen
"More awareness of the breadth and depth of the talent that is here across a variety of genres. A lot is being done in this regard, for example, with Charlotte Musician, the Tosco Music Party and the Charlotte Music Awards, but we have a ways to go in building community recognition of the quality music scene here." -- Michael D. Evans, co-founder, Charlotte Music Awards
"I really enjoy the circle of local musicians that I have met and worked with, but this city has a lot more talent than it supports. I'd love to see more people coming out to see live music they've never seen before." -- Neal M.F. Harper, owner/operator/janitor, The World Famous Milestone
"The one thing I would change about the Charlotte music scene is have a few more open mic/talent showcase events. There are only a few and sometimes it seems you have to belong to a clique just to be considered for the events." -- Elesha Renee Barnette, singer/guitarist, The Barnettes
What do you wish more fans would avoid doing when going to shows?
"I wish more fans would be more open to artists they've never heard of instead of just coming to see one band then leaving." -- Wishart
"There are a few who want to talk loudly and directly in front of the stage. Go to the back of the room if you need to talk. I don't want a show to be a recital, but I don't want those who want to listen to the band to be distracted by the loud drunk in front." -- Lynch
"Stop complaining about ticket prices. Good entertainment is going to cost money. In order for us to bring it to you, promoters and venues have to spend a lot of money before we start selling tickets." -- Kitchen
"From personal experience, I can say avoid whiskey early in the night, so you can still remember the set. Drive responsibly. DD it or cab it. It's not worth the risks." -- Harper
click to enlarge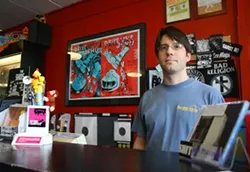 What do you wish more fans would do when going to shows?
"Spread the word, write a review, bring your friends and buy the merch." -- Laurie Koster, local music promoter/Web designer
"Wear custom earplugs, they actually sound great and I often worry about the folks in front of the stacks." -- Rob Tavaglione, owner, Catalyst Recording
"The one major thing I wish music fans in this town would do is to buy your tickets in advance. A lot of shows get cancelled because of a lack of ticket sales. People bitch that certain shows don't come to Charlotte. It's not because the club owners don't try. Agents don't like to book shows in Charlotte because it's known as a walk-up town. Until Charlotte starts buying tickets in advance, these shows will pass Charlotte or play on off nights." -- Ellison
"I wish more fans would just come out to enjoy music for the sake of hearing music. Try taking a chance on a random band playing at a venue on a Tuesday night instead of sitting bored at home." -- Jason Howie, general manager/talent buyer, Tremont Music Hall
"Of course shows are parties in a sense, but people should think a little more sometimes about how what they do affects the way where they go operates ... and then they should start a band." -- Andy Fenstermaker, the "Doorbum," The World Famous Milestone
"Don't wait on the guy next to you to say the music is good. Decide for yourself and go with the flow! Get with it and rock out!" -- Barnette
What's your best advice to a band or individual who's just starting out?
"Promote. Make REAL flyers -- not e-flyers and MySpace bulletins." -- Wishart
click to enlarge
"If you are the opening act, be respectful of your time." -- Lynch
"You need to have good songs and approach a venue in a professional manner. Most venues use online press kits now to cut down on clutter around the office. You also need to think about what you have to offer the venue. If you can't bring in patrons/fans, then what incentive do they have to work with you? Work your way into clubs by becoming friends with bigger bands. Ask them if you can open for them when they play the club you are trying to gig at. If you have good music and something to offer the venue, you will get in eventually. Be patient." -- Howie
"If you are playing a show and the audience is empty, perform as if the house is sold out. You never know who might be there and could help your career later." -- Jeffrey Cheen, president, Succession Records
"Enjoy the journey. It's great to have dreams of success, but live in the moment and love what you're doing today." -- John Tosco, president, Tosco Music Parties Inc.
"Hone your craft and know what you believe about your music before listening to what others believe about your music." -- Barnette
What do you wish more bands would do?
"Experiment more with 'unusual' music -- don't let the fear of acceptance hold you back." -- Tavaglione
"First and foremost for a new band to get started is promoting itself. Each band member should be able to get at least 25 people out to see a band. No matter how much people wanna talk about how good a band is, if no one comes out to see you, a club is not going to book you. It is a business! Don't expect a Friday or Saturday night for your first gig." -- Ellison
"Practice and master your craft. Don't be afraid to be rejected. Have CDs ready to sell at your events wherever you play. Be humble." -- Kitchen
"I would like to see band members be more accessible and interact with music fans." -- Tosco
"Try to throw a house party or rehearsal room party to get your friends and co-workers interested in what you're doing. Make demos and be vocal about what you're doing. If you're not interested in bringing people out to a show, neither will your friends." -- Harper
"Do what you want, and don't be afraid to get just as much of a thrill off of people being weirded out by you, as you do by them liking you." -- Fenstermaker
What do you wish more bands wouldn't do?
"Give up so easily. Making truly compelling music and attracting fans takes lots of time and effort, but it's worth it in the long run." -- Tavaglione
"I just wish bands would get back to playing music for the sake of playing music. Too many bands are trying to prove the wrong thing to the wrong people lately. I also hate bands that don't respect venues, or the people that work at them, bands that load in late or start late and bands that don't think they have to pay their dues before they start getting big crowds and lots of money." -- Howie
"Don't turn your back to the audience." -- Cheen