click to enlarge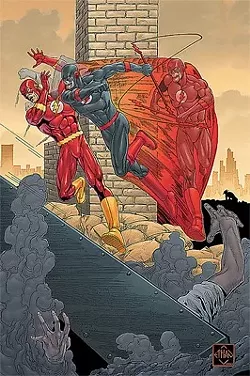 The Flash: Rebirth No. 5
Published by DC Comics. Written by Geoff Johns. Art by Ethan Van Sciver.
The Deal: The resurrection of the original Flash (Barry Allen) and the revamp of the entire Flash family continues.
The Verdict: I can't say I'm in love with this book. This six-issue limited series seems more like a means to an end than a great comic book story. Writer Geoff Johns has given himself the mission of redefining the Flash mythology, and that's just what he's doing. Along the way, however, he's also pumping out page after page of senseless pseudo-science gobbledy gook. Still, in this month's issue, the new status quo of all the Flash-flavored speedsters comes into focus. As a result, I'm excited about what the future holds for the characters ... even though I'm not too thrilled about the present.
Reviewed materials provided by Heroes Aren't Hard to Find: www.heroesonline.com.