After reading Tricia Childress' review of Aloha Hawaiian BBQ & Grill, it's been on my list of places to check out.
Located in the Shops at Whitehall Commons on South Tryon Street (in the plaza with Walmart and Lowe's), it doesn't really make for a quick and easy lunch for Uptowners, but if you work in the business centers nearby, it'd be a good option. It's a good deal, and it's pretty fast. When I went for lunch today, there was no wait and plenty of seating.
For $7.25, you can get a giant tray of food. These "plate lunches" come with macaroni salad, steamed rice, and veggies. See photos of their Shrimp and BBQ Chicken Combo, as well as the Mahi & BBQ Beef Combo, below.
The shrimp, which were battered and fried, were big and crispy — they kind of looked like onion rings. As part of the combo plate, I also got three large pieces of Hawaiian BBQ Chicken. The thin pieces of meat were juicy and flavorful, but reminiscent of hibachi Japanese food from a mall's food court. Teriyaki and katsu sauces are available in self-serve pumps.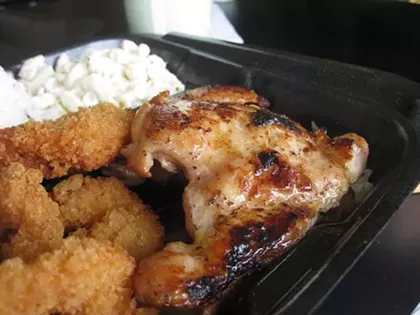 20 slides
Here's a tip if you plan to go: You can print buy-one-get-one-free and $1.50-off coupons for Aloha here.
Aloha Hawaiian BBQ & Grill
8170G S. Tryon
704-583-2122