Red Mango has rolled into Charlotte. The nonfat frozen yogurt franchise can be found off exit 25 on I-77 in Huntersville. Lucky for us, this Red Mango store happens to be self serve, which makes the experience more fun (not all stores are).
Made with all natural ingredients, their yogurts come in both tart and non tart flavors. When I visited last weekend, they had flavors like Mandarin Orange, Raspberry, White Peach, Amaretto, Blueberry, Pomegranate, and more.
In celebration of Valentine's Day, their featured flavor is the Dark Chocolate made with Ghirardelli chocolate. You can make your frozen yogurt treat even more chocolaty by adding on Ghirardelli chocolate sauces and chocolate chips that are available at the topping bar.
Other toppings include rainbow sprinkles (the one thing they unfortunately don't have at Yoforia shops), chewy mochi, granola, fruit chunks, candy and cereals.
As a big fan of Yoforia, I'd say Red Mango is also pretty good. I like the original tart flavor at Yoforia more than Red Mango's original, but Red Mango has a few tasty flavors that can't be found at Yoforia. The price is the same at both places – 39 cents per ounce.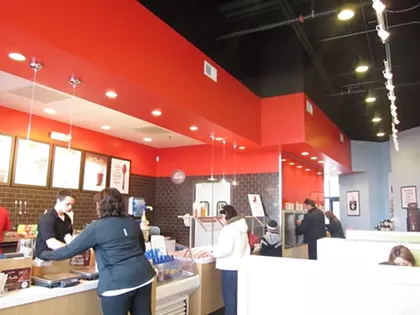 12 slides
Red Mango
NorthCross Shopping Center
9918 Knockando Ln., Suite 120
Huntersville, NC 28078
Phone: 704 896 7227
Mon-Sat: 11am-9pm
Sun: 12pm-8pm