Quick pop quiz!
Are you...
a. Too busy to cook?
b. Not in the mood to cook?
c. At a loss of how to prepare an easy healthy meal?
D. All of the above?
Have I got a recipe for you!
When I want to put a healthy meal on the table, but have little to no time, I reach into my crockpot arsenal.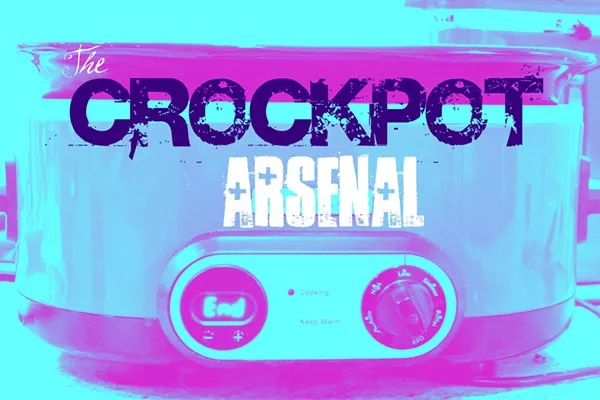 My crockpot arsenal is a handful of easy healthy recipes that basically involve dumping a bunch of ingredients into a crockpot and walking away for at least eight hours, then coming home to a delicious home cooked meal.
Got that?
1. Assemble ingredients.
2. Dump in crockpot.
3. Walk away for eight hours.
4. Come back and enjoy!
It's really as simple as that!

One of my favorite recipes to pull from my crockpot arsenal is curry chicken soup. Chicken soup is so comforting and delicious, but I love that this recipe is a little different than your traditional chicken soup by including curry.

It's warm, delicious, and comforting. Exactly what I want to come home to on a cold winter day!

Crockpot Curry Chicken Soup (serves 6)
1 pound chicken breast
6 cups chicken broth
1 can light coconut milk
1 1/2 Tablespoons curry powder
1 red bell pepper, chopped
3 cups spinach
2/3 cup brown rice
1/2 cup cilantro, stems removed
1 1/2 teaspoons salt
Put all ingredients in a crockpot and stir. Turn crockpot to low heat and cook for at least eight hours. Once cooking is complete, pull chicken apart (shred) into bite size pieces with two forks. Spoon into bowls and serve piping hot.

If you think this soup is delicious, wait until the next day! This soup gets tastier and tastier over time.
Serve it with a side salad or veggies and hummus, and crusty bread to sop up the broth. This meal will feed a crowd or will serve a couple for a few days. Feel free to halve it for less servings or stick it in a sealed container in the freezer to keep up to a few months.
Now what are you going to do with all of the free time you have by not slaving over a hot stove?
Come back next week and I'll share another tasty, healthy, quick and easy recipe from my crockpot arsenal!