This past weekend marked another year of the Taste of Charlotte Festival. I can imagine few things better than more than three city blocks lined with food. It's a slightly classier, more literal version of the Hunger Games, Charlotte style. Notice I said "slightly."
I am ashamed to admit this was my first time attending this event. My fellow city dwellers have been on to something for the past 13 years, as they push, shove, and, oh yes, eat their way down this Yellow Brick Road of cuisine and free samples. It's baffling why anyone with my stomach capacity and appreciation for hunger-induced violence would let something like this slip by, so I made up for lost time. [Insert hashtag #fatgirlproblems here.]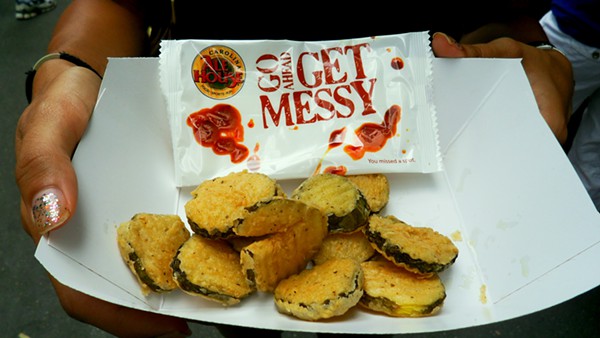 I didn't get to try all 90 samples offered from various booths, so it'd be impossible for me to say if all were delicious. Luckily, all items and coin costs were listed in a handy brochure, so I could strategize my plan of attack. I take these things seriously.
I finally settled on The Carolina Dog from Brian's Dog House Grill, fried pickles from Carolina Ale House, and sweet potato crackers with a savory port wine cheese spread and a mini red velvet cupcake, both from Polka Dot Bake Shop. In terms of festival food, I wish I could relive it again and again. That cupcake was the icing on my day.
Like any good Southerner with an appreciation for fried food, the pickles didn't last long, but I managed to hold out and find a seat near New Belgium's Tavern at the Taste stage to eat the rest of my small feast. A live trumpet player serenaded the crowd in this relaxed (read: pleasantly buzzed) atmosphere.
As I watched the throngs of people, I felt more like a spectator at the zoo or on safari. Primal instincts were in full gear, and I'm not sure people were even aware of what they were doing, so strong was the power of the prize. Alas, where there is food, there is competition.
The Chiquita Banana line got rowdy, with even more free food up for grabs. (Don't worry, no one noticed you grab those three extra bananas, grandma in the blue shirt. You're not as innocent as you look.) As if free snacks weren't enough, the line-cutting and subtle pushing were obviously warranted by the paper banana crowns. Yes, I said paper banana crowns.
But I was particularly tickled watching everyone go in for the kill. All pretenses of trying to be dainty were abandoned. You know that moment where you duck your head a little and bring hand to face? Or when you pull the head tilt, finding the perfect angle for food to enter mouth? If you listened really hard, you could probably hear the theme music from the movie Jaws as around me, as large mouths unhinged and food entered the black hole. May the odds be ever in your favor.