One of my favorite things about the warmer weather is the beginning of my CSA share, which usually starts in mid-May. For those of you who don't know, CSA stands for Community Supported Agriculture.
Basically, you give a farmer some money up front (or make a deposit) and each week for typically 12-15 weeks, depending on the farm, you receive fresh, local, and seasonal produce. Some of the things that I receive each week are very foreign to me. My CSA share has challenged me to be very creative in my recipes and resourceful in the amount of vegetables I attempt to utilize in one meal.
Colorful food makes a beautiful presentation
My CSA is starting to cure their sweet potatoes (dry them so they last longer before baking), so the sweet potato I used in the meal pictured above was from the grocery store. However, it was a local N.C. sweet potato. Did you know they are available year-round? The tuna was also from said grocery store.
But the Nappa Cabbage in my slaw - that was most definitely a contribution from my CSA share.
The simplest thing you can do with any kind of cabbage is make slaw, but I wanted to add a little pizzazz to my meal by giving it an Asian Twist.
So I sesame-d my tuna and my cabbage, and the result was an incredibly tasty meal with an Asian flair.
Bet you didn't know you can use sesame as a verb, did ya.
SESAME TUNA (serves 4)
MARINADE:
1/2 cup soy sauce
3 Tablespoons honey
3 Tablespoons Worcestershire sauce
1 teaspoon ground ginger
4 4 oz. tuna steaks
4 teaspoons sesame seeds
2 teaspoons toasted sesame oil
In a small bowl, whisk together the soy sauce, honey, Worcestershire sauce, and ginger. Pour marinade into a resealable container with a flat bottom. Place tuna into the container so that each are "face down" on the bottom of the dish to marinade in the sauce. Seal the container and place in the refrigerator for at least 30 minutes, but as much as two hours. After 30 minutes, flip tuna steaks over in the marinade so that the other side is now "face down" on the bottom of the container. Seal container and place back in the refrigerator for at least an additional 30 minutes.
Remove container from refrigerator. Sprinkle 1 teaspoon of sesame seeds over one side of the tuna. Use your fingers or a spatula to spread the seeds evenly.
Warm oil in a skillet or pan on medium high heat. Place tuna steaks into pan and cook for for 4 minutes on each side*.
*4 minutes on each side will result in a warm pink center. For a fully cooked center, cook for 1-2 minutes more. For rare tuna, cook 2 - 2 1/2 minutes on each side (not recommended for tuna that has been frozen).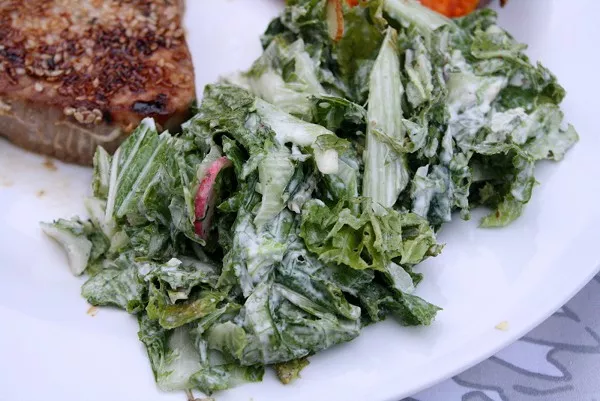 SESAME NAPPA CABBAGE (serves 4-6)
4 cups Nappa Cabbage, chopped and thoroughly rinsed and dried
1/2 cup light mayonnaise
1/2 cup rice wine vinegar
2 Tbsp. toasted sesame oil
1/3 cup raw almonds, chopped
1/4 cup radishes, sliced thinly
1/4 tsp. sea salt*
several turns of fresh ground pepper
Combine everything but pepper in a large bowl. Toss several times to mix well. Continue to toss until mayo and oil are completely and evenly distributed throughout. Top with fresh ground pepper. Serve cold or slightly chilled.
*Add more salt if desired.
Check out my other Asian inspired recipes!
- Thai Curry Chicken Salad
- Tempeh Quinoa Stir-fry