It was a regular morning at the Davidson Farmer's Market. I was deep into my Saturday routine, making rounds to pick up my weekly haul, visiting with my favorite farmers. A couple booths down, I noticed a sizeable crowd gathered around a table, and an imposing woman, a new vendor I had never seen, with short, reddish hair neatly spiked carefully describing her items to the hungry group shuffling politely about each other, vying for a spot at her table.
I had to see what all the fuss was about.
I waited my turn to approach the booth and discovered a vast spread of artisanal goat cheeses for sampling. This wasn't just any goat cheese either. This was Suzanne Levesque's labor of love made from fresh goat milk produced on her farm, Cheval Farmstead Dairy.
The cheeses had names like the Avalon and the Peachtree. There was goat cheese wrapped in brandy-soaked fig leaves. There was wasabi-infused goat cheese with local honey rolled in black sesame seeds and medallions paired with fresh mango and ginger. I opted for the Peachtree, a traditional French style cheese rolled in fresh rosemary. Right then and there, I decided, I needed to know this goat lady.
Suzanne was gracious enough to have me out to her farm, a small farmstead dairy in Vale, N.C., about an hour west from Charlotte, where she lives and works with her husband, Jeff. For the last eight years, they have been farming goats, first in Hudson Valley, New York and now in Vale.
I arrived to find Suzanne cleaning the stalls in one of three old poultry barns that house the goats. She was sweetly chiding the newly weaned kids who were pleading for more milk, "No more baba for you."
Curious and alert, the goats, mostly Alpine and Nigerian Dwarf varieties, gathered around to scope out the newcomer. Suzanne made her rounds, calling each by name (Juliet, Bebe, Sam, Dean, Sophia, Cowboy, Bailey) carrying on conversation while I followed. When we got to the milking parlor, Jeff was seated inside chatting with one of the girls.
"Alright, Lily, good girl" The door would swing open and Jeff would call the next girl in, "Come on up, Annette." By this time, I was astounded at the intimacy with which both Jeff and Suzanne knew and cared for their goats. They knew each one, all ninety of them, by name.
Jeff milks about 35 goats each day, providing Suzanne with approximately five gallons of fresh goat milk to make her artisanal cheese. Jeff passes the milk through a trap door from the parlor to the top-secret (and uber-sterile) cheese room where the magic happens.
Suzanne grew up around food, with a big French Family in a small town outside of Montreal. Her fondest memories are tied to the culinary whims of her mother, pastries and pies filled with whatever fruit was growing at the time. Her grandmother made artisanal doughnuts "just because" and cheese was in their blood.
"I get all my roots from farming and making food," she says with a smile.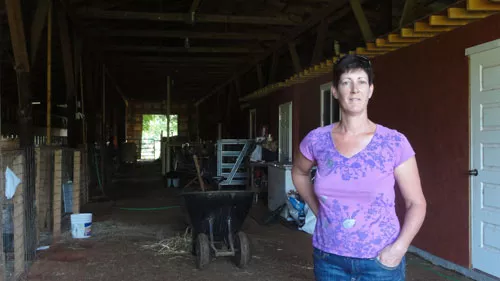 That day, I spent nearly two hours talking with Suzanne who, after tending to the farm, still had a good six hours of cheesemaking ahead of her to prepare for the Hickory Farmer's Market which she attends on Wednesdays.
She introduced me to Pretty Ricky, a golden buck who is, apparently, a big hit with the ladies. After that she invited me to pick blueberries because there were too many for her and Jeff to eat and she showed me the fig tree where she harvests the leaves to soak in brandy for her Avalon cheese.
Just then, the mail lady pulled up and chatted with Suzanne about the wonders of her handmade goat's milk soap. So far, it has been the only thing to relieve her extremely allergic skin. I left with an unexpected pound of blueberries and a mason jar full of her goat cheese medley, medallions of goat cheese marinated in extra virgin olive oil, with fresh garlic, peppers, olives, rosemary and homemade pesto. With the first bite, you can tell it's made with love.
After visiting Cheval Farmstead Dairy, I can tell you, it most certainly is.
Find Cheval artisanal goat cheese at Reid's Fine Foods in Myers Park and at the Davidson Farmer's Market every Saturday from 8 a.m. until noon.