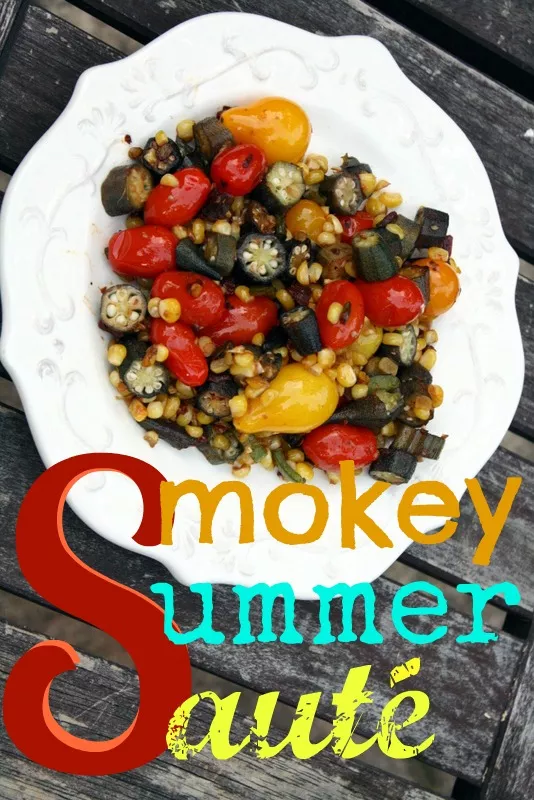 My most recent new-to-me ingredient is chipotle peppers in adobo sauce. It's slightly sweet, very spicy, and gives everything a nice smokey flavor. It comes in a small can and can be found on the international aisle in most grocery stores. You can add it to all kind of dishes, from cream sauce to dips — and in this case, a colorful sauté of summer vegetables.
This bears repeating: It is very spicy. So use sparingly and taste as you go if you're getting creative with it. Remember, you can always add more, but it's virtually impossible to take it away once added.
Corn, Tomato, and Okra Sauté
SIDE NOTE:
I just can't help it — I have to address the pronunciation of my new favorite ingredient. Chipotle is pronounced chi-pot-le. Not chi-pol-te.
This is a common mispronunciation, so don't be ashamed if you have been mispronouncing it all this time. I bet 50 percent of the people who heard you didn't even know you were saying it wrong. But now that you do ...
You can ask for help locating it in the grocery store with no fear, then you'll have it to make this delicious, simple, and oh-so-summery sauté.
SMOKEY SUMMER SAUTÉ (serves 3 as a side, add some protein like chicken sausage and this serves 2 as a main course)
This recipe sounds so simple (and it is!) but it is surprisingly tasty. I love sweet and spicy together, which is probably why I couldn't get over the flavor combinations in this dish. In fact, it was the central focus of our dinner conversation. Yep, it was that good.
1 1/2 Tablespoons extra virgin olive oil
1 1/2 cup raw corn
1 1/2 cups sliced okra (red or green)
1 jalapeno pepper, de-seeded and membranes removed
1 1/2 cups mixture of cherry and pear tomatoes*
1 chipotle pepper in adobo sauce, chopped finely
salt and pepper to taste
Heat oil in a large pan. Add corn and okra to the pan and stir until coated by oil. Cook until corn begins to soften. Add jalapeno and tomato and continue to stir periodically until tomatoes begin to dimple (tomatoes get dimples when they get hot). Add chipotle pepper and stir to mix throughout the vegetables. Salt and pepper to taste.
Serve warm.
* Use whatever thumb-sized tomatoes you can find, if there aren't pear tomatoes in your area.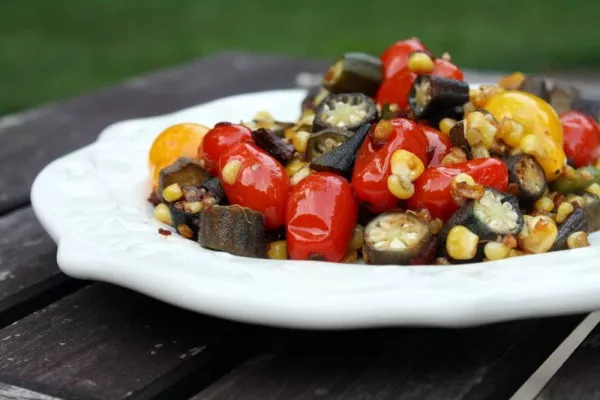 Summer Veggies with Chipotle Peppers in Adobo Sauce
This is my last post about using summer corn ... unless corn just happens to pop up in another recipe or two. For more delicious ways to use corn, check out my black bean and corn salsa or my jalapeno cheddar cornbread.