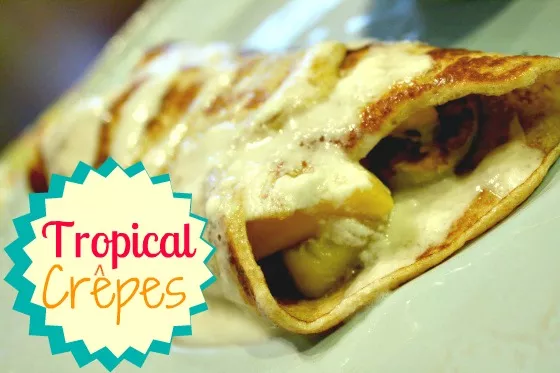 My journey through the wonder that is France ended yesterday, but I still have one more French recipe up my sleeve.
Right now I'm traipsing around my little yellow house with major jet leg in a stinky cheese coma, craving a cold beer after drinking umpteen bottles of wine. I'm also craving a burger or Tex Mex or other American delicacies like peanut butter. But I'm also thinking longingly back to that crêpe I had at that wonderful bistro ... the thin flaky butteriness, the creamy sauce, the fruity filling and wish I was back in grand Paris.
I'll reminisce and wish I had stayed, learned to speak French, be 10 pounds skinnier, and wear red lipstick so I could taste this every day (obviously there's a disconnect between being skinny and lavish French food).
And then, I'll remember that I've can make my own crêpes.
Crêpes with Banana, Mango, and Coconut
TROPICAL CRÊPES (makes 8-9 crepes)
adapted from this recipe
Crêpes:
1 cup whole wheat pastry flour
1 tsp. Dermura sugar (natural brown sugar)
1/4 tsp. sea salt
3 eggs
2 cups skim milk
2 Tbsp. butter, melted
Tropical Filling: (makes enough for 3 crepes)
1 mango, sliced
1 banana, sliced
1/4 cup shredded unsweetened coconut
Coconut Honey Sauce (for 3 crepes)
1/4 cup plain yogurt
1 tsp. honey
1 tsp. coconut butter, melted
Turn a oven burner on medium low heat and place a well oiled pan on the burner. Mix first three crepe ingredients together. Slowly add each egg, whisking after each addition. Add milk and butter stirring well. The batter will be very thin. Using a 1/2 cup measuring cup, dip cup into the batter and pour onto a well greased pan. You will know they are almost ready to be flipped when the outter circumfrence of the crepes start to slightly darken, appearing to cook faster than the center.
I found it easier to slide my spatula under the center of the crepe and flip quickly. If you oiled the pan well, you will have no problem with the crêpe sticking and won't have a need to go around the crêpe with the spatula before flipping. Each crêpe side should take about one minute if pan is already hot when you begin cooking your crêpes. The second side may take less time than the first. Cover crêpes or place in an oven on the lowest temperature to keep warm.
Add banana and mango to a pan on medium low with a bit of butter or oil to prevent sticking. Cook until fruit begins to brown and flip, cooking for a couple more minutes until both sides are slighly brown and bananas start to caramelize.
Plate crêpes and distribute fruit into the center of each. Fold crêpes to cover the fruit as pictured above and secure with a toothpick if necessary. Whisk together coconut honey sauce ingredients. You may want to warm this a bit to make it runnier. Pour over crêpes and serve.
Crêpes with Honey Coconut Sauce

What I love about this recipe is that it makes quite a few crêpes, which you can stuff with all types of delightful things. May I make a few suggestions?
Sweet:
Nutella and strawberries
Whipped cream and blueberries
Creme Fraiche mixed with honey and peaches
Savory:
Smoked Salmon, cream cheese, and eggs
Squash, zucchini, chicken, and goat cheese
Flank steak, avocado, and tomatoes
Or you could go all American on them and stuff them with peanut butter and jelly. Yum!
Kelly Davis is a blogger, freelance writer, food enthusiast, and native North Carolinian. When she's not training for a race or cooking something delicious in the kitchen, she's writing, reading, snuggling her dachshund, or plotting her next project. You can keep up with Kelly's antics and recipes on her blog, Foodie Fresh.