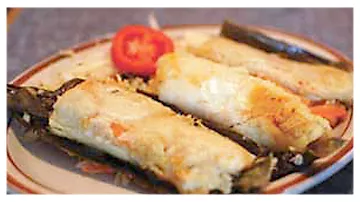 Last Thursday, the Levine Museum of the New South kicked off the 2013 New South for the New Southerner series to a packed house of Queen City foodies. The event focused on the topic of "Eating Out: Past and Present." Charlotte Restaurant Week founder Bruce Hensley opened up the evening with a spirited account of Charlotte's restaurant history.
Staff historian Dr. Tom Hanchett led the evening with a discussion of the explosion of Latin American eateries (namely in the Eastway neighborhood) in Charlotte, where you can find some of the best and most authentic dishes in town. Denise Botello-Coleman of Latina 102.3 FM and Levine staffer and Latino New South Project Coordinator Melina Monita-Pacheco shared favorites from the vast and varied scene. All you need is your car and an appetite.
MEXICO
Cocina Latina is serving up some of the best Hidalgo style barbacoa in town right here in East Charlotte. Owner and cook Fausta Salvatierra will take you on a pleasurable trip. Enjoy tortas, a type of Mexican sandwich and authentic pastes, a savory pastry stuffed with meat and cheese.5135 Albemarle Road. 704-531-5757
Las Delicias Bakery is known for its freshly baked authentic pastries, cakes and homemade bread. Head in between 1:30 or 2:00 in the afternoon for a chance at snagging some goods fresh out of the oven. 4405 Central Ave. 704-568-2121
Lupita Tortilleria y Carniceria This is the spot for carnitas, the deliciously tender and flavorful pulled pork of your dreams. Lupita's makes carnitas on the weekend and folks begin lining up on Sundays around 7:30 a.m. for theirs. I am so down for some pork with my morning coffee. 5210 N. Tryon St. 704-910-4872
EL SALVADOR
El Pulgarcito, which literally translates to "the little finger," is a reference to El Salvador, the smallest country in Central America. Look for the classic Salvadoran dish of pupusas, a pillowy corn tortilla stuffed with just about anything served with a side of curtido, a cabbage and carrot salad similar to American cole slaw. 4816-A Central Ave. 704-910-4872
HONDURAS
Copan on Sharon Amity features traditional Honduran food including its version of enchiladas. It begins with a crisp corn tortilla topped with meat, cheese and vegetables followed by a sweet cream and soft egg for that messy kind of bliss. 3607 N. Sharon Amity Road. 704-603-3193
DOMINICAN REPUBLIC
Three Amigos is run by three friends from El Salvador, Mexico and the Dominican Republic. Although Three Amigos primarily serves Mexican food to its largest community of customers, they feature a late-night menu (10 p.m.- 4 a.m) of street food straight from the D.R. Look for chimichurris, a marinated beef burger that will satisfy all your late-night desires. 2917 Central Ave. 704-536-1851
VENEZUELA
Arepas Grill is a fairly new addition to the South Charlotte neighborhood, focused on one of Venezuela's most prized street food offerings, arepas. An arepa is made from a thick corn cake and stuff with anything from meat to cheese to more off-kilter fillings like quail eggs and Reina Pepiada, a Venezuelan chicken salad with avocado and cilantro. Arepas Grill has 16 varieties to choose from. 4740 Old Pineville Road. 704-522-1211
This is just the tip of the iceberg when it comes to Latin American eateries in Charlotte. Be careful not to discount the tiny groceries that are often serving authentic homemade food in the back of their stores, and food trucks roaming Charlotte, like the late night Puerto Rican food truck, Pinchos El Bori.
So, let's go people! All you need is a taste for adventure to start filling your culinary passport.