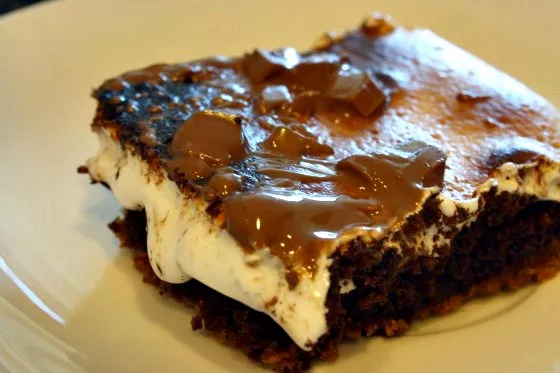 Ooey gooey s'more brownies
I've never met anyone who doesn't like s'mores, and I've never anyone who doesn't like brownies. Well, that or I just refuse to be friends with such people.
This recipe has been a big hit with both adults and children alike, but I feel like I should warn you: The toasted marshmallow layer makes this brownie recipe very messy. So bring plates, forks and napkins, or be prepared to wipe everyone down with a damp cloth after enjoying this treat. And I'm not just talking about the children here.

S'MORE BROWNIES (serves 12)
A buttery graham cracker crust gives way to a fudge brownie center, finished off with an ooey gooey toasted marshmallow layer and melted milk chocolate.
GRAHAM CRACKER CRUST LAYER:
¼ cup brown sugar
10 graham crackers
8 tablespoon butter (1/2 cup or 1 stick), melted
BROWNIE LAYER:
1/2 cup unsweetened cocoa
1/3 cup all purpose flour
1/4 teaspoon sea salt
1/4 teaspoon baking powder
4 tablespoons butter (1/4 cup or 1/2 stick), melted
3/4 cup sugar
1 teaspoon vanilla extract
1 egg
1/4 cup milk
MARSHMALLOW LAYER:
2 cups marshmallow fluff
4 ounces Swiss milk chocolate, chopped
Process graham crackers and brown sugar in a food processor. Add butter and process more until until mixture is thoroughly combined. Place crust mixture in a 9 X 13 cake pan and press with a spatula to distribute evenly. Make sure the crust is about the same depth throughout the pan.
Preheat oven to 350 degrees F. In a large bowl, mix the dry ingredients for the brownie layer: cocoa, flour, salt, and baking powder. In a small bowl, mix the wet ingredients: 1/2 stick melted butter, sugar, vanilla extract, egg, and milk. Add wet ingredients to the large bowl of dry ingredients and stir well to combine. Pour brownie batter over the graham cracker crust and use a spatula to distribute evenly. Cook for 30-35 minutes or until brownie mixture is almost completely firm to the touch.
Remove from oven and allow to cool for about 30 minutes.
Preheat oven to 500 degrees F on the broil setting. Add marshmallow fluff on top of the brownie layer and spread evenly with a spatula. Marshmallow layer should be about 1/4 - 1/2 inch thick. Place in the oven and watch carefully to brown as desired (mine toasted for 4 1/2 minutes resulting in very brown marshmallow in the middle and lightly toasted around the sides). Remove from oven when desired browning is reached and top evenly with milk chocolate, which will melt on contact with the hot marshmallow fluff.
Slice and serve after cooling.
IMPORTANT NOTE:
The degree to which you toast the marshmallow layer is completely up to you. If you rotate it every minute or so, you'll get a more evenly toasted top, but I like mine a little darker in the middle gradually decreasing in toasted-ness until the edges are barely melted. Everyone has different opinions about the proper toasting of marshmallows so if you're serving this to guests, this allows them to choose a brownie from the toasted section of their choice.
Kelly Davis is a blogger, freelance writer, food enthusiast, and native North Carolinian. When she's not training for a race or cooking something delicious in the kitchen, she's writing, reading, snuggling her dachshund, or plotting her next project. You can keep up with Kelly's antics and recipes on her blog, Foodie Fresh.