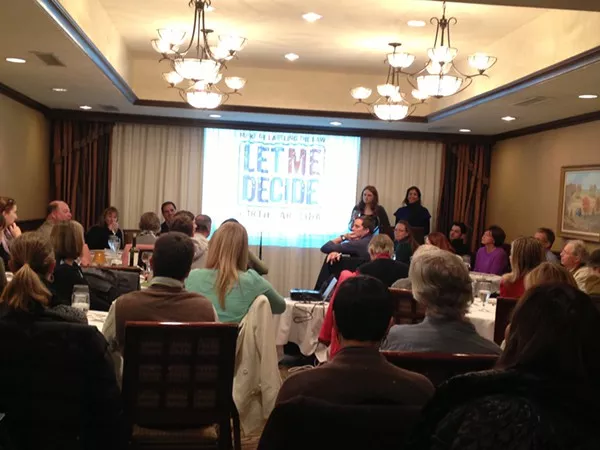 Last Thursday, a packed room of concerned citizens, local farmers and students came together on the second floor of Harvest Moon Grille to kick off the grassroots campaign to label genetically modified organisms, or GMOs, in North Carolina.
The discussion was led by Renee Maas, a senior organizer with Food & Water Watch along with local blogger and passionate activist, Vani Hari, known around town as the Food Babe. The ladies outlined the potential dangers of GMOs and more importantly, empowered the crowd to take action by sharing tips and strategies for organizing. The idea, the ladies said, was to stop waiting for the federal government to do something and begin rallying for change at the state level.
Last fall, a legislative initiative to label GMOs in California was defeated in a David versus Goliath campaign that pitted large companies like Monsanto, Nestle and Hershey against smaller companies that could not stand up to the deep pockets of the mammoth corporations.
Genetically engineered foods are causing concern among many groups of people, from farmers who are losing local control of their crops to average citizens concerned about their health. The ladies presented several compelling reasons why we need to label GMOs. Here are just a few:
1. GMO labeling is regulated in more than 60 countries including all European Union member states, Australia, Brazil, China, Japan, New Zealand, Russia, Saudi Arabia and South Korea. The European Union, in particular, requires all food, animal feeds and processed products with biotech content to bear GE labels.
2. GMOs raise health concerns. Though the long-term effects on human health have not been tested, its impacts are of concern to those who advocate for labeling because the DNA inserted into genetically engineered foods sometimes comes from animals, bacteria and viruses, not plants. Currently, the Food and Drug Administration does not have the authority to regulate GMOs because they are privately patented.
3. GMOs increase toxins in our communities. Chuck Benbrook, research professor at Washington State University's Center for Sustaining Agriculture and Natural Resources, found that the introduction and development of GMO technology has increased the use of herbicide (read: chemicals) by 527 million pounds between 1996 and 2011.
Over the course of the evening, I saw familiar faces and new ones. Susanne Dillingham, also know as the Tiny Chef, was there to show her support for the cause. Dillingham, a local private chef who often sources from local farmers, said that, for her, it's all about choice.
"I believe it is important for us to be able to have the power of choice. After traveling around the world I see that having so many choices is one of my favorite things about America," she said. "I think if an ingredient is genetically modified and listed on the label, people should be able to make the choice to purchase that item or not. I know I'd like to have that choice."
Local poultry farmer Jonathan Bostic of East of Eden Farms was there echoing similar sentiments. "I believe it's about freedom. When you label GMOs, you automatically give people more of an informed decision. If this happens, I believe you'll see a major shift in what people purchase and the market for the local organically driven farms will soar."
Guests learned how they can activate the cause for labeling GMOs within their own corners of the community. They were given petitions to collect signatures and were asked to list organizations to recruit for support. There was even a 16-year-old in the crowd hoping to bring the issue back to his high school to help educate his peers.
If you're interested in taking action, you can sign this petition or join the fight by attending the next meeting on Feb. 7, 6:30 p.m. at Harvest Moon Grille inside the Dunhill Hotel.