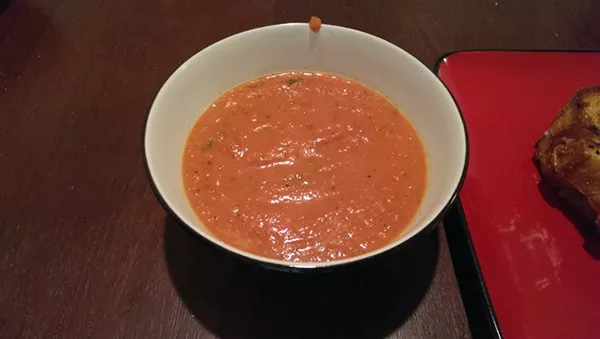 Maybe it's a symptom of having not one, but two food channels sludging their way through the airwaves 24/7, but it seems like we've developed an obsession with making sure food's as goddamned seasonal as humanly possible.
And yeah, most of the time that makes sense. Lemons taste better in the summer because they're light and summery; potatoes taste good in the winter because you can make them into a stew that keeps you from freezing to death and dying. That's how nature gets down.
But that doesn't mean you should lock yourself in food jail and refuse to eat pumpkin pie just because the leaves outside are the wrong color. You want some ice cream on Christmas Eve? Do it. You know Ina Garden is going to be making warm bread pudding on the TV and staring at you semi-disapprovingly, but do it anyway, because your love of ice cream far, far supersedes the elements. Rocky Road beats snowstorm every time, people.
Similarly, I like grilled cheese sandwiches. A lot. So even though it's roughly a million degrees outside and I'm sweating just typing this, I'm gonna make some Chorizo and Goat Cheese Sandwiches with Pepper Jelly. And also some Tomato Basil Soup.
Weatherman be damned.
Here's what you need:
Pepper Jelly:
- 2 red jalapenos
- 1 cup red bell pepper (it's about 1 bell pepper)
- 1 granny smith apple
- 1 cup apple cider vinegar
- 2 cups sugar
Sandwiches:
- Some sourdough bread (and for god's sake, get the good stuff, not that Sara Lee crap)
- 4 links of chorizo
- 4 oz. goat cheese
- 2 tablespoons of butter
Tomato Basil Soup:
- 1/2 tablespoon olive oil
- 1/4 of an onion
- 2 cloves of garlic
- 1 dash red pepper flakes
- 1/2 teaspoon rosemary
- 42 oz canned diced tomatoes
- 1 cup chicken stock
- ½ tablespoon honey
- ¼ teaspoon salt
- ¼ teaspoon pepper
- ¼ cup chopped basil
- 2 tablespoons heavy cream
Directions:
First, you're going to make the pepper jelly because refrigerated pepper jelly is delicious. Refrigerated grilled cheese isn't.
Chop up the peppers, then core your apple and chop that up, too. You want them to be big chunks since they're going into the food processor, so don't go making them microscopic or anything.
Throw that all in the food processor and process the hell out of it. You want it to be almost liquefied, but not quite. Pour the whole thing into a big heavy pot and add the vinegar and sugar, then turn the heat to high and stir until it gets to a boil. Once it gets there, bring it back down to a simmer and keep stirring until it turns into jelly. It should take about 30-40 minutes, and you'll know it's ready when it's just a little more runny than regular jelly. It's going to thicken up once it cools down, so make sure you don't keep it on the heat for much longer or you're going to end up with pepper caramel. (Which I totally didn't do the first time I made this. Nope. Not me.)
Take your pot off the heat and let it cool for 5 or 10 minutes, then put it in some jars and stick it in the fridge until the sandwiches are ready.
Next, the soup.
Now, if you have an emulsion blender handy, this is going to be a wonderful, wonderful experience. If you don't ... hope you don't burn yourself! Heat a tablespoon of olive oil in a stock pot on medium-high, chop up that onion, and sauté for about 3 minutes.

Mince the garlic, and add that in along with the red pepper and rosemary.
Next, add the tomatoes, chicken stock and honey, and stir.
Get everything to a simmer, then bring it down to low heat and let it cook for 20 minutes. Add a little salt and pepper in there, too.

Now's the part where you're going to want an emulsion blender. Assuming you were smart and got one, all you have to do now is put the blender in and blend until it's nice and smooth. If you didn't get one ... get ready to roll up those proverbial and literal sleeves.
First, take the soup off the burner and let it cool out for about 10 minutes.
Get an actual blender (you know, the kind you make those frozen bullshit strawberry margarita things in) and fill it ¼ of the way with soup. Pulse until it's smooth, then keep pulsing in ¼-full batches until you've blended the whole thing. Make sure you hold the lid on with an oven mitt or a towel or something, because if you suddenly forgot how fractions work and filled the blender up too full it's going to explode. See? Told you this would be fun.
Once you're done with all that, pour all of the pureed soup back into the pot and reheat it on low heat until it's warm.
Add the basil and heavy cream, stir and leave it on low until the grilled cheeses are ready.
Luckily, the grilled cheeses are dead-easy. Cut up some of that sourdough into eight thick slices (but not too thick, you want about ½ an inch), then heat up a large pan on medium high heat.
Throw your chorizo in there and break it up in the pan. Keep it on the stove until it's cooked through, about 3 or so minutes. While the chorizo's cooking, spread the goat cheese on four of the slices, and spread some pepper jelly on the other four.
Distribute the chorizo evenly across the sandwiches, close them up and lower your pan to medium. Put a tablespoon of butter in the pan, let it melt, then put as many of the sandwiches as you can fit in there. Let the sandwiches cook for about a minute and a half until they're golden brown on the bottom, then flip them over and do the same on the other side. If you need to add another tablespoon for the other sandwiches, do it. It's not like it's going to make them taste worse.
Flip those sandwiches on a plate, put some soup in a bowl, and take a bite. Preferably shaking your fist at the ridiculous weather outside while you do.
Oh, and take a bite of this week's track too. It's Maybe from Pete Cannon:
OK, so you might be a little hot if you've got the windows open while you're eating this. But hey, that's what water is for. Or beer. I'd go with the beer if I were you. Point is, don't let that little stick of mercury (people do still use those to tell temperature, right?) dictate what flavor goes in your mouth. The only thing that should decide that is you. See you next time.
When Scott Greenberg isn't baking - which is pretty much never - he likes to obsess over music, play Street Fighter and yell at kids to get off of his lawn. You can find more of his recipes at Fresh Beats, Fresh Eats.