I usually don't like "fake" flavor. If I order a lemonade, I don't want some fake-ass powdered nonsense in a plastic bottle; I want lemon juice that comes from an actual lemon. I want it to taste like I just got it from the backyard, not the back of a factory.
And if I order a tea, I want something that tastes like tea, not a glass of sugared-up, watered-down crap. I want a little piece of stationary attached to it that tells me the name of the British guy who yelled at a group of other British guys who didn't get exactly the right breed of Burgamot for the Earl Grey.
But, like most things (most - if you ever try to give me a bottle of Lipton's Lemon we're going to go outside and have a little chat about how you're an ignorant clod) there are exceptions.
I decided to make Arnold Palmer Cupcakes this week, largely because Arnold Palmers are a goddamned delicious beverage and the best possible example of "I like these two things so I'm going to shove them together into one."
I could've just squeezed some lemon into cupcake batter, infused any old tea into the frosting, and called it a day. But I didn't. I didn't because my Arnold Palmers weren't made with hand-squeezed lemons and real tea, which means yours probably weren't either.
They're made with fake-ass lemonade and Luzianne black tea. You got your lemonade from a bottle (if you're smart it came from Publix), and you made your sweet tea in a stained, old, plasticky pitcher. So that's how I'm going to make my cupcakes, because even though it's fake, that's the flavor. And sometimes that ain't a bad thing.
Here's what you need:
Cupcakes:
- 2 ½ cups AP flour
- 1 ¼ teaspoons baking powder
- 1 teaspoon baking soda
- ¼ teaspoon salt
- 1 ¼ cups sugar
- ¾ cups frozen lemonade concentrate, thawed
- ½ cup vegetable oil
- 4 egg whites
- 2 tablespoons Greek yogurt
- ¼ cup + 2 tablespoons milk
Icing:
- 2 bags of Luzianne black tea
- 1 stick butter
- 4 cups powdered sugar
- 1 ½ cups heavy cream
Directions:
First, whisk together all the dry stuff except for the sugar: flour, baking powder/soda, and salt.
Next, get out that stand mixer and mix together the lemonade concentrate, sugar, oil, and egg whites.
Add half of the dry stuff to what's in your stand mixer (that's the stuff with concentrate in it) and mix.
Next, mix the Greek yogurt and milk together until smooth (remember that trick, hopefully-faithful readers?) and add that in too.
Mix in the rest of the dry stuff just until combined. That means mix until you can't see any more flour, don't overdo it.
Fill your cupcake tins with batter and stick them in the oven for 21 minutes, making sure you give them a 180-turn at the 11-minute mark. If you can stick a toothpick in them at 21 minutes and it comes out clean, you're golden.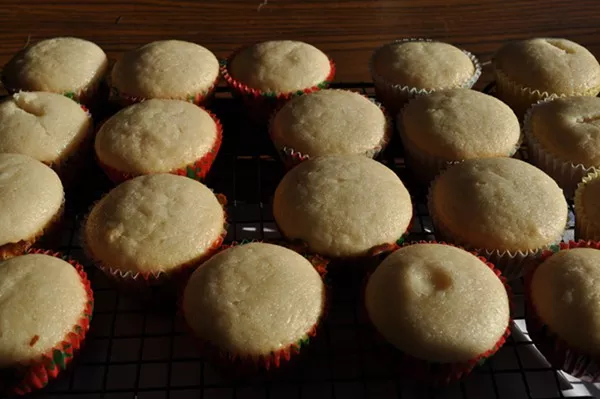 After they come out of the oven, let them rest for five minutes, then take them out and let them cool on a cooling rack until they're room temperature. And I mean REALLY room temperature, as in not even remotely warm. Melted icing's a bitch, folks. Be patient.
Once you've got your cupcakes cooled, start in on the icing. First, cream your butter in your stand mixer, which is a fancy term for whipping the ever-loving crap out of it for roughly 30 seconds. Pour your cream into a small pot and gently heat it up. If you can stick your finger in it and say "oh, that's hot" and not "ARGHHHHHHHFUCKMYFINGER," then it's ready.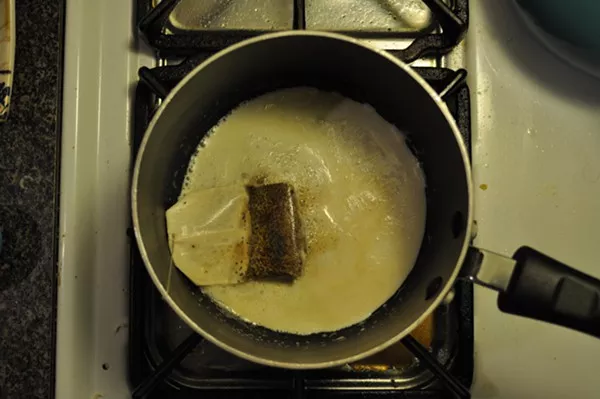 Take the pan off heat and steep the two tea bags in the cream for seven minutes. Make sure you move them around a bit to get that nice tea flavor mingling with the cream, and make extra sure to press down on the bags with a spoon once those seven minutes are up.
Next, mix in the cream and powdered sugar with the butter in alternating doses until they're fully combined. If your icing's a bit too firm, heat up some more cream, hit it with a couple more tea bags, and add that in.
All that's left is to get a pastry bag and frost those cupcakes up. Or if you couldn't find a pastry bag because the damned grocery store doesn't carry them and there's not a decent food supply place within 50 miles of here ... wing it.
For this week's track, we're going with "Lemon Grass" by the one and only MF DOOM:
I'll see you next time, readers.