I know there's still a cupcake joint on every other corner, and frosting-topped monuments to the diabetes gods lurking behind the overly-breathed upon glass cases of every supermarket in the country, but the cupcake trend is over. The days of a piping bag and a dream propelling you to the big time? They're done, baby. The cupcake "thing" isn't a thing anymore ... it's just a thing you want.

I'm not going to sit here and pretend like the damned things stopped being delicious because US Weekly stopped yammering on about them. They're still good. A lot of them are still really, really good. What makes me upset isn't the stuff in the pink sparkly storefronts. It's the homemade stuff, the stuff that inevitably withers its way into the local potluck or the bake sale down the road.
Take a trip to your local cupcakery and regardless of the quality of the product, they always manage to make the damn things look impressive. You get your massive pyre of frosting, some sprinkles, maybe even a gummi lime or a candy cane if they really want to wave their proverbial jazz hands around. But it always looks nice, no matter where you get it from.
Then I go to a bake sale and I have to suffer through some piddly little barely-frosted bullshit that came from a box with "Sara" or "Duncan" or some other name that sounds like a fifth grader in summer school. I have to suffer through cupcakes that look like they just came out of your Fisher-Price "My Mommy Wanted to Be A Baker But Blew All Her Money on Law School" magic oven, that maybe, if I'm lucky, make it to the inch-high mark.
Look. Maybe frosting your cupcakes with a plastic knife and writing your name in shittily-made gel icing was cool in the '90s, but it's 2013. I got standards now. Just because you don't own a cupcake store doesn't mean you can't grab a pastry bag and pipe out some tall, thick, quality spires of icing. So snatch up some powdered sugar and a star tip, because we're getting mean with some Thai Coffee Cupcakes. And throw away that plastic spoon, dammit. You've been rewashing it for like three years, it's disgusting.
Here's what you need:
Cupcakes:
- ½ stick of room temperature butter (1/4 lb)
- 1 cup sugar
- 4 eggs
- 1 cup of flour
- 2 cups chocolate syrup
- 1 tablespoon almond extract
- 2 teaspoons espresso powder
- ½ teaspoon cinnamon
- ¼ teaspoon cardamom
Frosting:
- 2 teaspoons vanilla extract
- 4 cups powdered sugar
- 6 tablespoons room temperature butter
- ¼ cup condensed milk
- 2 tablespoons regular milk
I was informed by my cadre of Thai restaurant-employed roommates that a TRUE Thai coffee has tamarind in it, so if you can manage to find some, add a ¼ teaspoon. I didn't have any, because they chose to tell me this after I made the damn cupcakes. Thanks, guys.
First, heat up your oven to 325.
Just like any other cake-related recipe ever, cream your butter and sugar with a stand mixer until it's nice and fluffy.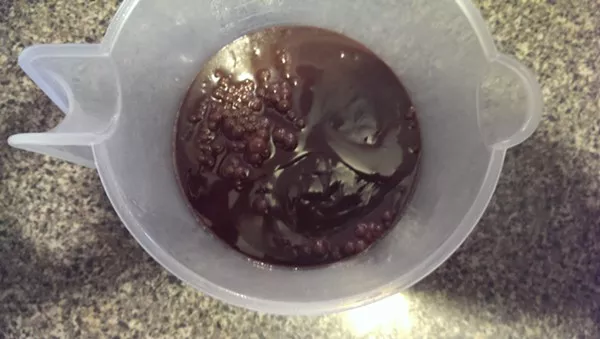 Mix in the eggs one at a time, then add the chocolate syrup and vanilla. If you don't feel like holding a cup of chocolate syrup over your bowl for 3 hours, spray your measuring cup with non-stick spray before you pour in the syrup. Otherwise you're going to have to sit through the baking equivalent of watching paint dry. The paint'll be made of chocolate, but still, not terribly exciting.
Add the flour in and mix until just combined. That means as soon as you can't see white anymore, STOP.
Grab your cupcake pan (you do have one, right?), fill it with cupcake liners, and spoon that batter in there.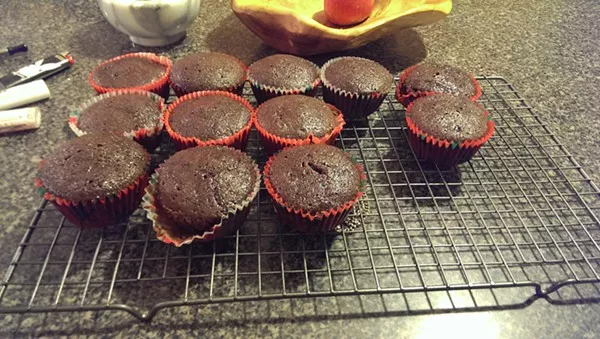 Stick the cupcakes in the oven for 30 minutes, then let them cool out for 5 before you move them to a cooling rack. And don't worry if they don't look like they're set; they're supposed to be fudgy, that's why you put a metric fuckton of chocolate syrup in them.
While they're cooling, start up on the frosting.
Cream the butter until it's ...  well, creamy.
Add the powdered sugar and slowly beat it in. Slow equals delicious creamy frosting, fast equals kitchen covered in white powder. You do the math.
Add the rest of the ingredients and keep mixing until it becomes frosting. Since condensed milk has a texture more like sludge than actual milk, you may need to add more than a couple tablespoons of the real stuff before you get the right texture. Just keep adding regular milk a tablespoon at a time if it's too thick.
As soon as the cupcakes are completely cooled off, pipe your frosting on top with a pastry bag. Like I said up there in that big rambling intro, if you want yourself a real cupcake instead of that trifling church bake sale garbage, get a pastry bag and pipe it high.
And don't forget to pipe some beats into your brain this week with a track from Childish Gambino. Check out LES:
Like I said. There's a big difference between being down with something that's not a trend, and half-assing it just because Katy Perry isn't having a conniption over it anymore. If you're going to make something delicious, make it delicious, and make it big. Otherwise there's some sad and lonely cardboard boxes waiting for you over in aisle 12.
See you next time, people.
When Scott Greenberg isn't baking - which is pretty much never - he likes to obsess over music, play Street Fighter and yell at kids to get off of his lawn. You can find more of his recipes at Fresh Beats, Fresh Eats.
Editor's Note: This post has been updated.