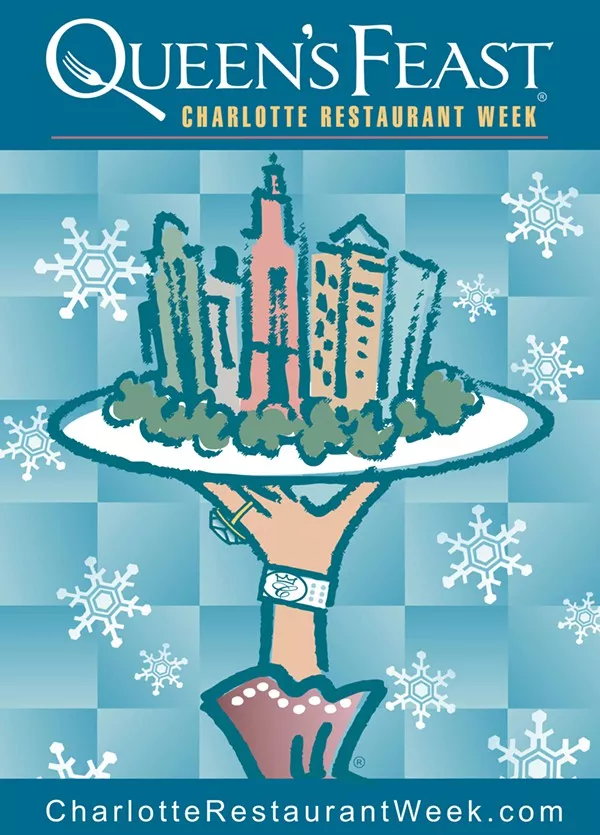 The Queen's Feast, otherwise known as Charlotte Restaurant Week, begins this Friday, Jan. 17 and continues through Sunday, Jan. 26. The 10-day semi-annual event features 117 area restaurants that extend from Mooresville down to Fort Mill and everywhere in between. Participating restaurants offer a special three-course (or more) prix fixe menu for $30 (not including tax and gratuity) to Restaurant Week guests.
The event offers diners an opportunity to try new restaurants and brings business to dining establishments during a historically slow time of the year. Last summer, 130,000 diners filled seats at local area restaurants for $6 million in generated revenue.
Yet, with all the excitement from a large portion of Charlotte eaters, there are the naysayers who have created a longstanding debate, in town and across the nation, about whether or not Restaurant Week is a boon or a blemish.
The argument is that Restaurant Week brings in the wrong kind of patrons, those who don't normally eat out and therefore, will not be back. For restaurants, this perspective could yield the perception (and possible reality) that they won't see a return in the form of new customers. This article on TIME.com claims that some restaurants believe that Restaurant Week "annoys their best customers."
Some seasoned diners imply that their restaurant experience is somehow interrupted during Restaurant Week, like this article from Charlotte Viewpoint where an unnamed foodie urges folks to "Save your money and boycott this aberration of pristine dining we expect and deserve, lest you're destined to eat with - (quelle horreur!!) - The Cracker Barrel People." Whether it be too crowded, too noisy or their favorite table is unavailable, it seems that some elite restaurant goers view Restaurant Week as a lesser experience.
While the numbers clearly show a visible economic impact, there are people who just don't see the value in it. Bruce Moffett's stalwart restaurant, Barrington's does not participate. For his small 40-seat restaurant, the discounted menu does not make sense for his bottom line. He tells me that Barrington's is often a place where diners seek solace and a good meal during the Restaurant Week madness.
As a person who enjoys eating out and writes about food for a living, I can say that I have a "take it or leave it" approach to Restaurant Week. Last year, a group of friends wanted to get together for a meal during Restaurant Week. I joined them and it was fine. Did I have a good experience? Sure. Have I been back to said restaurant? No.
Most of the time, I would rather eat off the regular menu and have even done just that during Restaurant Week. I realize restaurants have to plan for volume when they choose Restaurant Week menu offerings, but to me, those items are usually not the most interesting offerings.
I don't knock Restaurant Week because I believe it has its merits in creating business during down times in the dining season. I do believe that some people use the opportunity to try out a new place and maybe some find a new place to patronize regularly. I also think that others use this time of year to try a place that is typically serving at a higher price point than they can afford, which is completely valid provided guests go in with the right attitude and tip appropriately, according to the level of service.
I have been on the other side of that table and know what it's like to receive the opposite treatment. I spent two years serving tables at a Charlotte-area restaurant and cycled through four Restaurant Weeks. Did it generate more income for me as a server? Um, HELL NO.
Sadly, I was embittered by the clientele during Restaurant Week as a server. More often than not, I dealt with people who were not seasoned diners. They often tipped waaaaay below the standard percentage (which is 20 percent in my book) and the chaos of a busy restaurant and long hours was not worth it. I dreaded those 10 days.
So, the question is: Do you love Restaurant Week or do you loathe it? What has been your experience?
Let's hear it, Charlotte.