Heist Brewery recently rolled out a brand-new menu of twisted eats to the public last week, featuring 38 new items from executive chef Rob Masone. Since its opening in August 2012, Heist has hung its hat on Masone's personal philosophy to "Stay true to the foundations but break every rule possible on the way to the plate... or lack thereof." This is the fountain that sprung things like wasabi cotton candy and kurobuta pork belly corn dogs.
Masone's new menu still follows this mantra, although he makes a point to say that Heist is trying to be more conscious of supporting local producers and working with well-sourced product. Masone spouted off his new creations to a room full of hungry media types. We all got acquainted with the word "ridiculous" as he used this word to describe more than a few of his dishes.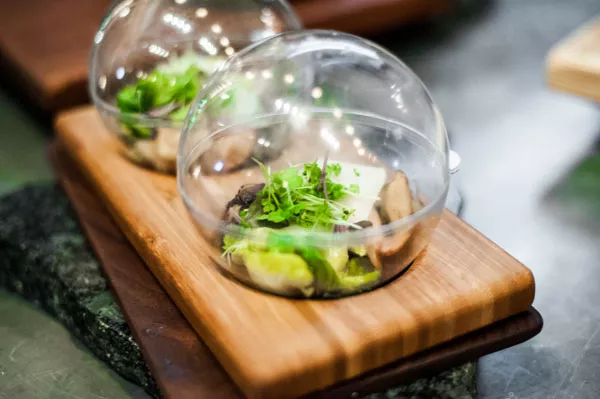 Some of the standouts included an inventive brussels sprouts presentation dubbed "Farm to Bubble" (pictured above). Guests are presented with a cylindrical container reminiscent of a terrarium filled with brussels sprouts two ways, beer braised and fried served with roasted apples and pears, Asian vinaigrette and micro beets. Chef called the beer braised brussels a "Hoppy Meal." Guests were instructed to shake their little plastic bubble to distribute the dressing, pop the top and eat.
The lamb meatball was another winner. The comforting, tender meatballs were served with a forest mushroom cream, candied red peppers, herbed ricotta and a garnish of fried basil. If I could have it my way, herbed ricotta would be made into its own food group. Real talk.
Upping the quirk factor (which is already high at Heist) are totchos, or what I like to call, a stoner's dream. That's right, tater tot nachos. Chef Rob explained that the Heist crew ate a lot of tater tots and drank a hefty supply of Miller Light at Solstice Tavern when Heist was being constructed. Back then, those visits inspired him to do his signature homemade rosemary tots - now, he pushes the envelope with totchos. The tots are topped with candied jalapeño, super secret liquid cilantro, six cheese pimiento cheese and pickled giardiniera.
Rumor has it that the scallops were one of the best new items, but a minor logistics issue and early departure prevented me from tasting them. Three large scallops are served atop avocado mousse, topped with eggplant confetti and finished with a Sun Drop (yep, the soda pop) and elderberry reduction. While you're working your way through the new menu, preferably sharing with friends, check out the new cocktail menu too. Stefan Huebner has devised a whole new list of libations.
Heist Brewery is located at 2909 N. Davidson St. and opens for lunch at 11 a.m. every day. Dinner is served until 12 a.m.