With the beginning of March, we can now start digging out our spring gear for warmer weather. More importantly, it's time to start our search for the best nightspot in which basketball fans (and others) will call their second home this month: the sports bar. There's a new place in Uptown Charlotte to watch the madness that ensues in March, and it's not your typical Queen City speakeasy.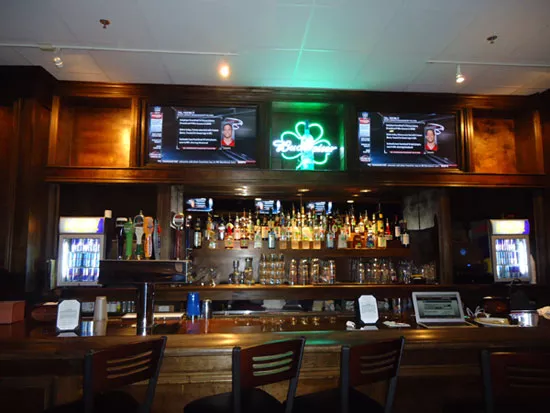 Fitzgerald's Irish Pub is smack dab in the center of it all at 5th and College streets and within a full-court throw of the Time Warner Cable Arena. Yes, it is in the Wake Forest building, where Buckhead Saloon used to reside, but Fitzgerald's looks and feels nothing like the former crazy, country bar. No joke, this place smells like my new car.
The owners of Fitzgerald's (same as the popular Kennedy's Premium Bar and Grill in Elizabeth) have completely redone the space with brand-new bar, cabinetry, hard-wood flooring, columns and pub tables. They've added a kitchen, cut out the lounge area and posted up an astonishing 26 TVs for you sports buffs. The feeling of this Irish pub will be much more intimate than Buckhead ever was. (There's a joke in their somewhere … ) As you walk in, you will notice right away the time that has been put into the renovations of this upscale Irish pub.
The addition of the kitchen boasts a new chef as well as a great menu packed with traditional Irish eats, such as Corned Beef Cabbage, Shepherds' Pie and Fish and Chips. They also serve typical bar food (not to mention eight different burgers) for those of you who like to keep it American. And, of course, you'd have to wash all that down with an Irish beer, no? If you're a liquor lover, they also have a strong signature drink menu with enticing cocktails such as the Green-Eyed Girl, Dirty Leprechaun and the Chantilly Lace.
I see Fitzgerald's as being a superb after-work spot for Uptown bankers and the like, but also a laid-back atmosphere to watch any sporting event with friends. And, of course, it's a no-brainer to stop in here for a brew on your way to a Bobcats or Checkers game or concert, given the prime location. After the dinner crowd finishes up, Fitzgerald's will have a DJ spinning nightly and a dance floor will appear where dinner tables once were. And they even validate parking after 5 p.m. (Hallelujah!) at the Wake Forest parking deck.
Fitzgerald's will be open every day from 11 a.m. to 2 a.m., serving food daily for lunch, dinner and into the late-night hours. The official grand opening of Fitzgerald's is Friday, March 9 at 5 p.m. Follow them on Twitter to keep up with news and other updates.