There is no doubt that North Carolina, and Charlotte specifically, has been stepping up their game in the craft beer world. New local breweries, such as Four Friends, Ass Clown, NoDa, OMB and more continue to open their doors in the 704 as beer snobs rejoice and unite. But what if you're not willing to stick to just one brewery's creations?
Three words: World of Beer.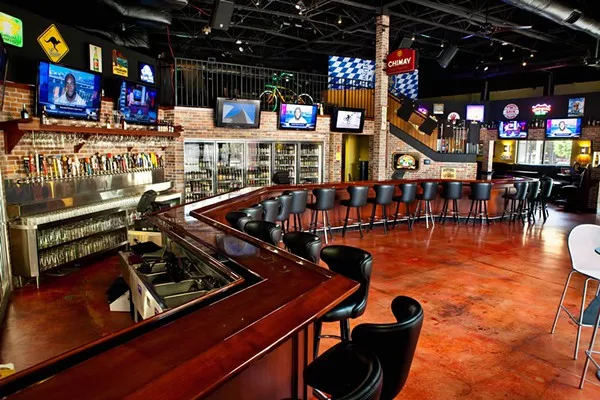 World of Beer, a new South End bar located in The Circle, is a foreign concept to Charlotte: a bar serving only beer. No food and no liquor.
But they won't sell just any beer; WOB will sell awesome beer. In fact, their selection will consist of 60 craft beers on draft and an astonishing (wait for it…) 560 bottled and can beers! Here's the best part: Not one of those beers will be a Bud, Miller or Coors brand. Conversely, the bar will carry at least 10 Charlotte beers on tap at all times. This huge selection of hoppy deliciousness may sound overwhelming for those of you who aren't brew connoisseurs, but fret not, as the staff at WOB is exceptionally educated in brew knowledge. The bartenders at World of Beer are schooled in an extensive two-week Beer School where they taste (sounds like my kind of job) and learn everything about the craft beer that they offer. You shan't need a beer menu at this place, although there is one, because their "staff is the menu."
Another concept that World of Beer embodies that most bars lack is culture and community. WOB plans to represent South End full-heartedly and become the "Cheers" of Charlotte, where guests are treated as friends with Southern hospitality. I've even been told it would be totally cool to rock out in your pajamas here, which is a plus.
One Sunday a month, free food will be brought in for Custom Appreciation Cookouts, as they have done before at their 23 other franchised locations. Community block parties with food trucks and Circle apartment pool cookouts are already in the works for the spring and summer. Here, they hope to break down that barrier between guest and staff and they fittingly call it "WOB Culture."
I believe this spot will do very well in Charlotte, considering its close location to Uptown and neighboring apartments and townhomes. It may not be for everyone, and I seriously feel for the staff every time someone asks for a liquor drink or Bud Light, but for the people who enjoy beer, they will fall in love. There's something to be said about the power in having only one choice, yet hundreds at the same time.
The official grand opening of World of Beer is Monday, March 19, 3 p.m. They will have live music Thursday through Saturday and will be open weekdays 3 p.m.-2 a.m. and noon-2 a.m. on the weekends. Side notes: Two future World of Beer locations are currently under contract to open in the Charlotte area. And WOB also holds a license to sell packaged beer to-go for those of you who don't want to drink with me in your pajamas.
April Smith is a social media marketer and blogger and has worked in Charlotte nightlife for more than five years. When she's not writing or tweeting, she's most likely running, watching sports or out on the town.