So it's Friday night, and you're looking for something to do. Should you go out dancing? Grab a couple drinks at a cozy bar? Find a way to feel like a productive member of society? Thanks to the '80s Dance Party at Hartigan's Pub, you don't have to choose.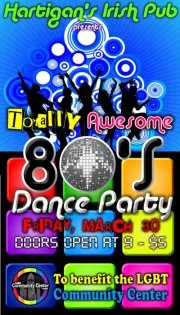 Doors open at 9, and your $5 cover is really a donation that goes straight to the LGBT Community Center. Besides the wonderfully horrendous fashion, partygoers can also look forward to drink specials and games like cornhole and beerpong.
And, of course, you can dance if you want to.