click to enlarge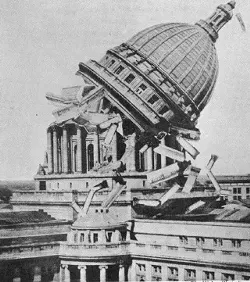 The topmost part of the state capitol building, largely confined to the dome, collapsed earlier today according to exclusive CL sources. The building, which is the site of the governor's offices, was rocked by a series of strange explosions around 9:30 this morning during a visit to Gov. Perdue by a large delegation of state legislators. Luckily, no one was hurt by the collapse, and questions remain as to the cause of the architectural calamity.
State architecture security chief Lester Corbusier theorized that the explosions weakened the base of the dome. He offered a "guesstimate" that the explosions were the result of "the gi-normous amounts of gas generated by the state legislators as they talked among themselves during their visit to the governor."
Special thanks to the Madison, Wisconsin Capital-Times April 1, 1933 edition, for the idea. And happy April Fools' Day.