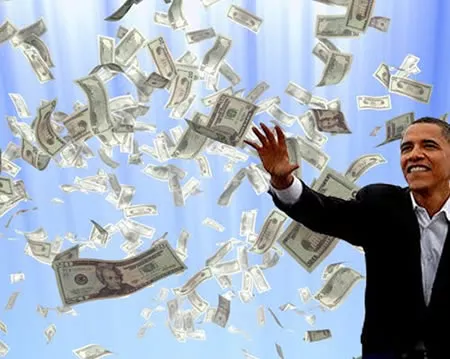 The New York Times reports that the Obama re-election campaign is shocked at how many of the president's most loyal 2008 supporters are telling his 2012 campaign to take a hike. It seems the army of small donors who, in '08, gave $15, $25, $50, or whatever they could spare whenever they could spare it — and who practically symbolized what that campaign was about —- aren't taking the bait this time around.
How is this a surprise to anyone? Most of those donors were average, everyday liberals who swallowed the "hope and change" stuff hook, line and sinker, and now are royally pissed at having been taken for fools. If the Obama campaign is genuinely astonished that many of those same liberals have lost their enthusiasm for the president, then they are even more out of touch with their so-called "base" than I thought.
I couldn't tell you how many times I've heard my progressive friends and acquaintances who were full-tilt Obama supporters in '08 express their disappointment —- make that disgust —- with the president's non-stop caving to GOP and corporate wishes. Somehow, I don't really get the feeling that Obama's recent lurch to the left is going to bring them back into the fold.
Like many who gave Obama's campaign a little money here and there, or volunteered to help out in '08, I get regular e-mails from the campaign, asking for donations. Normally I delete those e-mails on sight, but not long ago I replied to one of them, telling the beggars that, no, I will not be giving money to Obama this time, I will not phone-bank, and I certainly will not canvass neighborhoods on Election Day, and in fact, they'll be lucky if I even vote for the guy.
Now, I fully expect that the horror of a possible tea party candidate winning the White House will change my mind about that last bit, but at this point I find myself wishing Obama would pull a Lyndon Johnson and announce that he's not running for re-election. I know; that won't happen. But unless the Republicans nominate Michele Bachmann or worse, there's something else that won't happen: the kind of huge, grassroots movement that was the basis of Obama's 2008 victory.
I would kind of expect the D.C.-centered media to be clueless about the depth of many former Obama supporters' displeasure, as evinced by the Times' story; these are the same people who keep saying the U.S. is a "center-right" nation, although every in-depth survey of Americans' political and social attitudes proves otherwise. But for the Obama people to be dumbfounded that the prez's base is utterly fed up with him is a staggering admission of just how far down the D.C. rabbit hole they've fallen.