All of a sudden, Mecklenburg County officials are in a rush to do something with Memorial Stadium. In fact, they want your opinion about it today — at a 6:30 p.m. public meeting at the Grady Cole Center, next to Central Piedmont Community College. The problem is that today's Charlotte Observer story about the meeting is the first time anyone has heard about it.
The venerable, New Deal-constructed stadium has seen better days, as evidenced by the collapse of a section of seats. Afterward, the county — if you're familiar with Charlotte politics you could see this coming — paid $225,000 for an engineering study of the facility. The last anyone heard about the stadium was that the county would review "structural options," but now it's rushrushrush to get some public input. After the meeting, the public also will be able to give feedback on the county's Park and Recreation website. From past experience, I've found that rushed "public" meetings usually mean that some folks have already decided what to do and want to cover their butts. That may or may not be the case here — the short notice also could just be the result of poor planning. Either way, if officials want to know what to do with Memorial Stadium, I have an idea.
I'd like to see the county reserve that land for the minor league baseball park that ain't gonna happen in Third Ward. Frankly, that's where we suggested the ballpark should be when the idea of moving the Knights to Charlotte was introduced. But no-o-o-o — it just had to be inside the I-277 uptown loop. A complex land-swap deal was arranged by now-CEO of Center City Partners Michael Smith, in which the Knights ballpark would be placed in Third Ward, taking up part of the land that voters had already approved for a large park. (In other words — I love pointing this out, especially since Center City Overlords would love for everyone to forget it — Smith effectively wrecked the larger, voter-approved park, in favor of brokering a lucrative deal for his banking friends.) Smith's plan is now dead in the water because the Knights can't get the required funding for the planned Third Ward ballpark.
So, yeah, reserve the Memorial Stadium land for the Knights. The county certainly can't pay for a new stadium — it has new limits on building projects that would make it unfeasible, since the money would have to come out of school construction funds. The irony here is that Memorial Stadium was the original site picked by the county's Baseball Committee, but that plan was nixed by Smith's land-swappin' brainstorm. But hey, so the Knights are stuck in Fort Mill, and citizens are gypped out of the large park they voted for; at least Smith got a nice, cushy position out of the deal.
To recap, once the Great Recession is over (it will be over at some point, right?), perhaps the Knights can get a loan and before you know it, we baseball fans could have a team to watch downtown, with a great view of the uptown skyline. Will it happen? I can't say for sure, obviously, but probably not since that would make sense. If it does happen, I'll be happy, but I'll be even more surprised — as surprised as if Sue Myrick had been named an Honorary Muslim by the Islamic Society.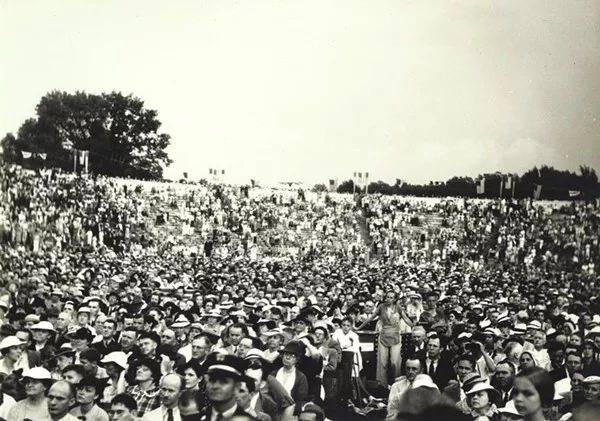 Haywood Robbins Collection, Special Collections, UNCC
Charlotteans gather at Memorial Stadium to greet the president — President Roosevelt, that is. In 1936.