Last week, we wrote that the U.S. Department of Justice's decision to block South Carolina's recently passed voter ID law was probably good news for North Carolina's voting-rights advocates. Now Bob Hall, director of Democracy North Carolina, writes in a column in the Elizabeth City Daily Advance that supporters of a N.C. voter ID bill may as well not bother, since "the racial gap of a photo ID requirement is even larger in North Carolina" than was the case in S.C. Hall's word carries some weight in N.C. political matters; Democracy North Carolina is the outfit that exposed both Democrat Jim Black's crooked dealings and Republican Art Pope's $40 million campaign to take over the state legislature.
The Justice Department rejected S.C.'s voter ID law because the state's own statistics revealed that the photo ID requirement would have a much greater impact on non-white residents. A Democracy North Carolina analysis of N.C. state records found that African Americans are twice as likely as whites not to have an N.C. photo ID, which, says Hall, is "a much greater racial disparity than found in South Carolina," and "suggests that the NC legislation would also run into trouble [from a federal review]."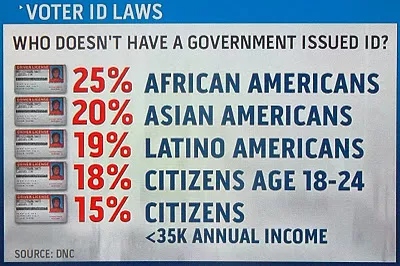 The federal government is required by the Voting Rights Act of 1965 to review and rule on any attempts to change election rules in states with a strong history of racial discrimination at the polls. Forty N.C. counties are covered by the Voting Rights Act, so the feds will rule on any new voter regulations passed in Raleigh. The N.C. General Assembly passed a voter ID bill last year, and although Gov. Bev Perdue vetoed it, GOP leaders managed to reintroduce the bill this year.
Hall estimates that if the voter ID bill became law in N.C., around 100,000 of the state's 6.2 million voters would face a needless hardship, with most of that hardship falling on "those who have historically been pushed away from voting: the poor, people of color, the young and those with disabilities."
Voting rights supporters have been pointing out that voter fraud through impersonation of another voter — the only kind of fraud covered by the voter ID bill — is the most difficult to pull off, as well as the least efficient in swaying elections. That probably explains why confirmed instances of voter impersonation are nearly non-existent. Voter fraud does show up, though, in absentee ballots. Absentee-ballot fraud is not covered by the voter ID bill, however. We imagine it's probably just a coincidence that absentee voters generally favor the GOP, while the voters most impacted by the bill traditionally favor the Democratic party. That can't be deliberate, right?