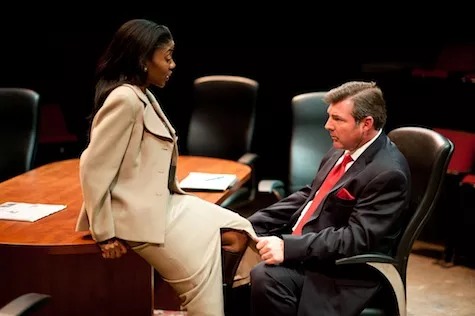 I'll say it again:
with lawyers like these, who needs criminals?
Throughout his distinguished career, playwright David Mamet has demonstrated that he is an equal opportunity cynic. Long before they collaborated with bankers and financiers in the latest Great American Economic Meltdown, ethically-challenged real estate brokers were skewered by Mamet in
Glengarry Glen Ross
. He trained a gimlet eye on academe in
Oleanna
after eviscerating Hollywood in
Speed-the-Plow
. Just before
Race
, now running at Carolina Actors Studio Theatre through March 24, Mamet targeted the White House with
November
— and Nathan Lane — before Bush 43 could get his foot out the door.
By stripping off the veneer that has ennobled the profession of Perry Mason and Clarence Darrow, those great seekers of truth and justice, Mamet shows us that the people who uphold our legal system — and by extension, the people who write our laws and lead us — are calculating, dishonest, amoral, and above all else, watching out for themselves. Part of the fun is that while Mamet is subjecting law partners Jack Lawson and Henry Brown, plus the firm's new minority recruit, to the merciless glare of his searchlight, the playwright also turns the mirror on himself. Winning a case in court, as Lawson describes it, is unmistakably akin to telling a story and deftly manipulating an audience's attention and sympathy onstage.
Some of that fun goes missing in the CAST production directed by Charles LaBorde when he casts the shark-like Lamar Wilson as Lawson. On Broadway, James Spader stepped out of Boston Legal to play the white partner of the firm, so the lawyer's bon mots in Act 1 sounded like the corrosive epigrams of an Oscar Wilde comedy. With LaBorde quickening the pace and Wilson heightening his blood pressure, Lawson comes off far more predatory, volatile, and mean. More like the hustlers we expect in Mamet. More subversive.
As Charles Strickland, the celebrity white defendant accused of raping a black woman, Christian Casper also takes us in a different direction. Richard Thomas came before us on Broadway expensively dressed and immaculately groomed, as if escaping a crush of snoopy reporters when he arrived at the offices of Lawson & Brown. Who could possibly believe this clean-cut all-American was secretly so savage? Not our John-Boy Walton! Dressed simply in jeans and sweater (a la Steve Jobs?), Casper makes the supposition far easier to entertain. Where Thomas seemed pompous and conceited, fretting that every hair of his image remained in place, Casper seems confused, humiliated, shaken, and contrite.