On Wednesday evening, a father-daughter duo took the stage at The Saloon at NC Music Factory. Manley Roberts and his daughter Montana sang Carole King's classic "Where You Lead," replacing New York City with Washington, D.C., in a lyric about following someone to a new destination. The blonde high school junior belted out the chorus as her dad played keyboard. She seemed to be singing to one particular audience member in the front row: her mom, 9th Congressional District candidate Jennifer Roberts.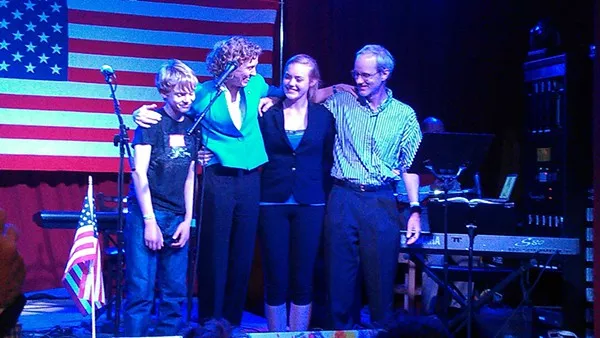 Roberts joins her family on stage
Artists' Night for Jennifer Roberts seemed to be more like a music and arts festival than a stuffy fundraiser. Hardin Minor, a mime, juggler and fire eater in Charlotte for about 30 years, created the event to give a boost of artistic energy to the final weeks of Roberts' campaign, especially since she's running against someone with double her cash. Republican opponent Robert Pittenger recently reached $3 million in fundraising, setting a record in the 9th District and possibly in the history of North Carolina congressional races, while Roberts has raised $449,000 through September.
"Because we don't have the kind of money Robert Pittenger has, we have to find other ways of supporting Jennifer to equal measure," Minor said.
The two-hour event, which The Saloon hosted at no charge, attracted over 200 people, double the number organizers Amy Blumenthal and Minor expected. Local actor Drew Nowlin - Uncle Sam on giant stilts for the evening - waved the American flag and greeted art patrons and a bevy of hula-hoopers, bongo drummers, and painters. John Boyer, CEO of the Bechtler Museum of Modern Art, lauded Roberts' accomplishments in business and education during her time as a Mecklenburg County Commissioner since 2004.
"She still has enough intellectual resilience and an appetite for life demonstrated by her commitment to the arts," he said. "Tonight you see it's a commitment of artists to her."
The entertainment ranged from live community art to folk-tinged musical performances. Outside as people arrived, artist Miriam Durkin invited guests to paint or draw on an oversize Roberts campaign sign. The sign, emblazoned with flourishes of encouragement like a pink and green sun and the word "Go," was later displayed near the indoor stage where musicians performed, including singer-songwriter Si Kahn and Grammy award-winning singer-songwriter Tom Chapin. He wrapped up the evening with a sing-a-long to "This Land is Your Land" with Roberts, her family and volunteers.
After the last cheesy potato skin was eaten, Roberts told me how she would channel the adoration into action if she gets to Washington as the first Democratic congresswoman in the 9th District since 1952.
"Each of the artists had a different talent, they contributed in a different way," she said. "We need to recognize there are voices, there are ideas, there is different kinds of intelligence that all can contribute."