As Davidson Community Players' artistic director temp, Marla Brown isn't deeply involved in - or guilty of - the company's current Farndale Avenue Housing Estate Townswomen's Guild Dramatic Society's Production of A Christmas Carol. Yet there she was on Saturday night of the opening weekend, seated in the front row, sweating whatever details she could.
There's plenty to sweat. The local premiere of this comedy at Theatre Charlotte vaulted to the #2 slot on my list of worst shows of 2005. I managed to praise one of the performers after this turkey closed down, but not before declaring: "By the final Sunday matinee, the cast of five had found a rudimentary rhythm and flow, no mean achievement with a script as lame as this joint effort by David McGillivray and Walter Zerlin, Jr." Perhaps if I'd been harsher, I could have prevented DCP from programming this Brit bomb, currently limping through Dec. 16 at the Armour Street Theatre.
If the 2005 effort at the Queens Road barn was at best a mediocre production of an execrable script, the DCP remount under the desperate direction of Matt Cosper proves to be a valiant - but failed - effort at CPR. Our hostess, Dee Dee Reece, schmoozes the house before the show and at intermission between stints as the Dramatic Society's narrator for the disastrous Dickens demolition. To her credit, Nyra Brannan is vividly Victorian in an eminently bustling, brittle British way. On the acting side, she may be setting a record as a 73-year-old Tiny Tim.
Her cast-mates, particularly Gloria King and Roger Watson, are also good at portraying the bad Farndale Avenue actors. So it's remotely possible that audience members will enjoy this twaddle if they haven't been exposed to the basic something-has-gone-terribly-wrong premise before. Yes, this is the same timeworn Yuletide premise that we've seen in a trio of radio-themed productions - from '40s Radio Hour to Jingle Jangle Christmas - along with Best Christmas Pageant Ever and Reduced Shakespeare's recent Ultimate Christmas Show (Abridged). Something always brings these Christmas shows to the brink of ruin before they even begin: ho, ho, ho!
Why this theme congregates at Christmas is a deep question for sociologists and philosophers to ponder, but as the recent Reduced Shakespeare invasion triumphantly demonstrated, it doesn't necessarily have to scuttle the results. Farndale Avenue not only miscalculates our eagerness to see a Dickens travesty, it borrows a shameless proportion of its shtick from Noises Off, the mother of all theatrical catastrophe comedies.
A better bet - and a closer one, if you're headed north to Lake Norman - is at Brown's other stage enterprise, The Warehouse Performing Arts Center in Cornelius. For fans of the first British invasion of Dudley Moore and Peter Cook, Good Evening from Beyond the Fringe will be a self-recommending title, also through December 16. We get no fewer than 17 sketches, delivered with a wonderfully British self-possession by Berry Newkirk, Jim Esposito, Dominic Weaver, and Scott Stanton, astutely directed by Don Cook.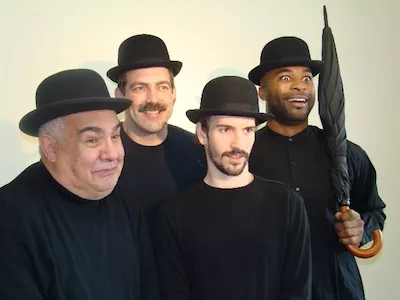 A pretty potent 1-2-3-4 combo greets us as Weaver and Esposito portray perfect strangers who bump into one another in "Hello" and converse as if they were old friends. "One Leg Too Few" follows, showcasing Newkirk as a one-legged man who auditions for the role of Tarzan, with Stanton as the producer taking it all in stride. "Bollard" is a quickie vignette about models showing up for a shoot that they are all temperamentally wrong for, and "Take a Pew" is an Esposito pulpit gem.
There are far fewer stumbles the rest of the way than you usually encounter in a typical Saturday Night Live episode - and a more generous running time at 105 minutes, plus intermission. "Frog and Peach," about a colossally wrong-headed restaurant enterprise, is just one of the jewels to look forward to in Act 2. There's another zany dip into religion as "Gospel Truth" offers its own brand of Christmas cheer, and the show closes with "Home Thoughts from Abroad," a wondrous guide to the USA from a UK perspective.