This may be 2013, but it still takes guts to stand up for your beliefs in the South, particularly if you don't cotton to "traditional family values." That's why it was so surprising - and, frankly, delightful - that the Green Street United Methodist Church in Winston-Salem vowed to stop performing any weddings until same-sex marriages can also be performed there legally. In a state where an anti-same sex marriage constitutional amendment was overwhelmingly approved by voters last year, the church's move isn't to be taken lightly. It's no secret that our region has a history of rightwing vandals' anger being taken out on churches that dare disagree with the Southern Taliban view of life. In addition, no one is sure how the United Methodist Church's national organization will react.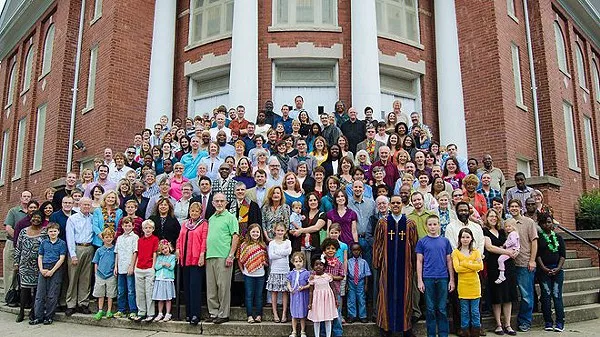 Green Street United Methodist Church
The congregation of Green Street United Methodist Church in Winston-Salem, which this week announced it will no longer perform weddings until same-sex couples can also be legally wed there.
Members of the Winston-Salem church released a statement on their website that said:
Green Street UMC sees injustice in the legal position of state government and the theological position of our denomination. North Carolina prohibits same-sex marriage and all the rights and privileges marriage brings. The Leadership Council has asked that their ministers join others who refuse to sign any State marriage licenses until this right is granted to same-sex couples.
The national UMC has banned non-celibate gay clergy and same-sex marriage for decades and believes that "the practice of homosexuality is incompatible with Christian teaching." The Rev. Kelly Carpenter of Green Street UMC told a Huffington Post reporter that the new policy is an attempt to "send a signal" to the church's fellow Methodists as well as to North Carolina politicians. Even if the signal is ignored by the GOP, the symbolism of Green Street's commitment is a just one, an impressive one - and one that deserves our thanks.