Where are Eli Newman and Sam Faulkner when we need them? The young, diminutive, cute-as-a-button stars of recent productions of Seussical, both of them sprinkling a saccharine patina over that trivial musical at Theatre Charlotte and ImaginOn, would be perfect for the title role of Lori Fischer's more serious and adult Petie, a Starving Artist production currently that's showing at Duke Energy Theater.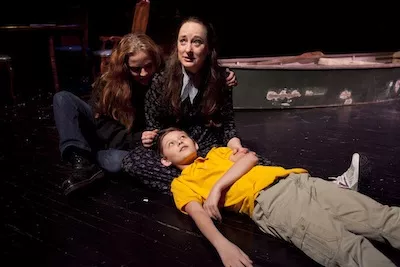 Unfortunately, the 10-year-old chosen by director Brad Archer to portray Petie leaves a gaping hole at the heart of the drama so Fischer's script works like a lifesaver at Spirit Square and not like a charm. Attempts to hear the boy from the second row proved futile throughout Act 1, so I moved up to the front row during intermission. Serendipitously, Archer moved a good chunk of the Act 2 action downstage to the center, so a good portion of the story was now practically in my lap.
When it came to poor Petie, who appears to us only in flashbacks as we near the tenth anniversary of his death, audibility was enhanced in Act 2, but the lad was never really intelligible. The words, even when I heard them, sounded like they were still on the pages of Fischer's script, without the slightest traces of expression, life, or character that you expect when an actor speaks.
Meanwhile, the death of this script reader has torn at the hearts of his mother, Bonnie, and his older sister, Jesse, becoming a two-pronged wedge between them. Bonnie is a devout Christian, so she's working at forgiving Petie's insane dad, the murderer, and visiting him regularly. These rancid examples of piety have soured Jesse on her mother and religion. The relationship is further strained by a secret that Jesse strongly senses her mother is keeping from her.
But there are other collateral damages we see as the story unfolds, including Jesse's distrust of intimacy and her overall lack of drive and ambition. Even if Petie were filled with lively spirit or depth, we would still face other frustrations. Until Bonnie finally relents, a boat stands upstage center, doing nothing except offering the vague promise of being connected to Petie's death and Bonnie's secret. No matter where we are - in and around the lowly Bi-Lo where Jesse stagnates or back home where she and her mom aggravate each other - either ominous splashing or strained breathing sounds mark the transition between scenes. Yes, that boat is going to be important. Just not yet.
Nor do the progression of Jesse's malaise or Bonnie's epic anguish over whether to finally reveal her secret after 10 years make for thrusting, dynamic stories. So without the real sweetness of Petie making it all worthwhile, we're more apt to notice how slowly and sluggishly Fischer's drama reaches its climax. And I'm sure if the evening had been shorter and Petie had been more adorable, I might have been a little more understanding about why Bonnie kept the truth from her daughter so long.
That's a shame, because the adults here are, almost without exception, strong performers. Begin with the playwright, who gives us a pitch-perfect demonstration of how Bonnie should be played - including a startling monologue at the start of Act 2. Of course, that implies there isn't anything nearly as powerful before or after Fischer erupts, though her performance as the religious zealot is nicely textured throughout the night. Nathan Rouse, the founder of Starving Artist Theatre Productions, gives a manic religious intensity to Daddy, lit to a white-hot glower like he was last year portraying Daryl Zanuck but this time with malign implacable intent.
Doubling as Eddie, Rouse is one of the four figures who surrounds Jesse at the Bi-Lo, the one who gets the promotion Jesse
would
have gotten if she'd seriously applied. Encouraging her is her best friend KM, whom Iesha Nyree manages to make into a rather meaningful figure. Unfortunately, Jesse isn't quite as good a friend, so KM remains imprisoned in an abusive relationship with Rick, the sort of set-up Jesse is quite familiar with from her own homelife. Robert Lee Simmons delivers all the ignorant menace you could wish for in this bullying boyfriend, doubling as the docile regional Bi-Lo manager, who may be seriously interested in or just merely attracted to Jesse.
Although Jesse is probably a more interesting person when she's at the Bi-Lo, smoking cigarettes and getting nowhere, the connection between Jesse's shattered family life and her languishing love life and career is probably the most effective point Fischer makes. This part of the drama would also be more effective with a stronger actor at the core. Caryn Crye's lapses in audibility as Jesse, nearly always when blocked upstage, were so few and far between that I'm inclined to forgive those. Less tolerable were the stray lapses of concentration and energy, when a late-rehearsal fatigue seemed to take over and Jesse momentarily disappeared.
Some heartwarming growth sprouts up as the evening ends. I'd be more moved by Petie if those splashing sounds punctuating the scene changes eventually signified the lasting ripples of a household where a father abuses his son, is inappropriately affectionate toward his daughter, and is disgracefully tolerated/enabled by his wife. Instead, as the drama rumbled toward its 1 hour and 54 minute running time plus intermission, those splashings and pantings tended to remind me how long and stagnant the evening often seemed.