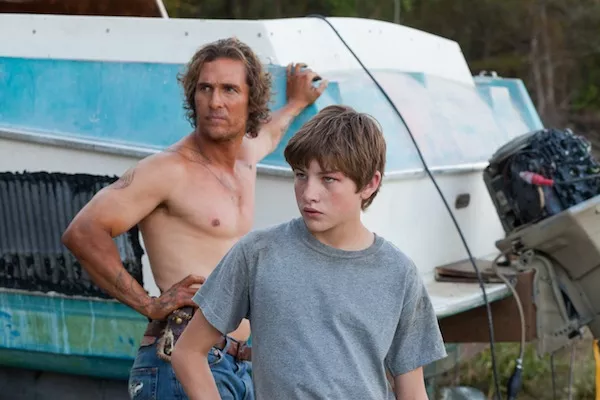 Matthew McConaughey and Tye Sheridan in Mud
Forget The Lords of Salem, the Rob Zombie flick that opened in limited release this weekend. More noteworthy are The Lords of Winston-Salem, those organizers, filmmakers, sponsors and audiences whose combined efforts have allowed the 15th Annual RiverRun International Film Festival to continue the event's tradition of matching up tantalizing films with hungry moviegoers.
This is the third consecutive year I've attended the festival (along with my wife, freelance writer Natalie Howard), and as before, I've opted to catch the final few days of the 10-day event rather than the opening stretch. Here, then, is the first batch of reviews.
Nick Robinson, Moises Arias and Gabriel Basso in The Kings of Summer
THE KINGS OF SUMMER - Coming-of-age tales are generally a dime a dozen, but here's one pretty much guaranteed to make viewers feel like a million bucks. A big-screen breakthrough for both writer Chris Galletta and director Jordan Vogt-Roberts, The Kings of Summer centers on two teenage boys experiencing miserable home lives. Joe Toy (Nick Robinson) has trouble relating to his father Frank (Nick Offerman), who's been in a perpetual state of depression since the death of his wife. Meanwhile, just being around his pesky parents (Megan Mullally and Marc Evan Jackson) has caused Patrick Keenan (Gabriel Basso) to bust out in hives. Past their respective breaking points, the boys, with a weird acquaintance named Biaggio (Moises Arias) in tow, decide to build a house deep in the woods; once it's completed, they leave their homes behind, opting to live in complete freedom while their parents wonder what's behind their disappearance. At first, it's an idyllic life, with the main hurdle being the trio's inability to catch their own food (fortunately, there's a Boston Market just on the other side of the bordering highway). But matters take a turn for the worst after Joe, deciding that the only thing missing from their cabin in the woods is "a woman's touch," invites his crush Kelly (Erin Moriarty) to hang out with them. That decision, along with the presence of a menacing copperhead, provides a potential "Eve and the snake" dynamic that might destroy this snatch of Heaven on Earth. The first hour of this 90-minute gem siphons humor from just about every ingredient available, most notably Frank's grizzly-bear personality, Patrick's reactions to the idiocy of his parents' utterances, and pretty much any moment focusing on the unique Biaggio. But even with this abundance of gags, it's clear that there are somber issues percolating just beneath the surface, and these are elevated - and handled - in mostly satisfying fashion during the third act. Admittedly, some of the film's comic bits come off as arch and artificial - no surprise, considering how many of the participants are involved with such snarky shows as Mash Up and Funny or Die Presents - but for the most part, The Kings of Summer will provide audiences with the royal treatment.
Matthew McConaughey in Mud
MUD - The Kings of Summer isn't the only RiverRun offering to feature family dysfunction, teenage boys hanging out in the woods, and a guest appearance by Indiana Jones' greatest fear ("Snakes ... Why did it have to be snakes ... "). Writer-director Jeff Nichols, a graduate of the University of North Carolina School of the Arts right here in Winston-Salem, made his debut with the well-received Shotgun Stories and then followed that with the intriguing Take Shelter, starring Michael Shannon and Jessica Chastain. With Mud, he demonstrates once again that he's that rare breed of filmmaker who prefers to bury himself in the dirt of rural America rather than carve his initials into the concrete of sprawling urbanity. Set in Nichols' home state of Arkansas, the picture follows Ellis (Tye Sheridan) and Neckbone (Jacob Lofland) as they make an unusual discovery in some woodland located on a small island off the Mississippi River: a boat stuck up in a tree. No sooner have the lads claimed it as their own than they discover it's already being used for shelter by a man who identifies himself as Mud (Matthew McConaughey). Insisting he can't leave the area because he's scheduled a rendezvous there with his one true love (Reese Witherspoon), Mud implores Ellis and Neckbone to help him by bringing him some food. The boys comply, but with each subsequent visit - trips Ellis keeps from his parents (Ray McKinnon and Sarah Paulson) and Neckbone from his uncle (Shannon) - they become more involved with Mud's plight and soon learn that everything is not what it seems. With keen instinct, Nichols offers a look at the hardscrabble lives of folks eking out an existence in difficult circumstances - a definite step up from the protagonists of Winter's Bone and Beasts of the Southern Wild, but a trying experience nonetheless. Sheridan and Lofland are perfectly cast as the inquisitive Ellis and the no-nonsense Neckbone, and there's a sharp supporting turn by Sam Shepard as a neighbor who knows Mud better than anyone. If Nichols' script isn't quite as memorable as the one he crafted for the edgy Get Shelter - McConaughey's title character could use more fleshing out, and the ending is a bit limp - his choices as director are first-rate throughout.
HBO Documentary Films
First Comes Love
FIRST COMES LOVE - Nina Davenport has never been shy about placing her own life front and center in front of the camera, and here she exposes herself in more ways than one. The New York filmmaker, whose Parallel Lines won the Audience Award for Best Documentary Feature at the 2005 RiverRun fest, has returned with the HBO production First Comes Love, which chronicles her attempts to have a baby. After plenty of failed relationships, and hearing her biological clock ticking particularly loud now that she's in her early 40s, Nina has opted to enlist her gay friend Eric to provide the sperm that will allow her to become a mommy. Absolving Eric of all responsibility when it comes to providing for her or the baby in any way, Nina instead receives valuable assistance from her best friend Amy, who serves as her birth partner. That role might have been filled by Nina's mom, but she passed away in 2006, a loss that affected Nina greatly. Nina's father is still around, but unlike her mother, he's hardly supportive in anything she does, including her chosen field (he would rather she had a dependable job like her brothers, who work for high-paying corporations). He finds the whole notion of her getting pregnant without a husband absurd, and his advice when she breaks the news that she's with child is, "Get an abortion." But Nina does no such thing, and the film continues to follow her as she gives birth to Jasper (in the most honest and graphic birthing scene I've ever witnessed in a movie) and afterward, as she tries to raise this child on her own. First Comes Love is a picture of great emotional power, not only because of the circumstances surrounding the pregnancy and the birth but also because of the reflections on Nina's late mother. If there's a misstep in the material, it's in the manner that Davenport as director seems to be trying to coerce some sort of confession out of her elderly father, a distant man who's clearly set in his old-fashioned ways. Many of his scenes could have been trimmed, although not the most important one: the meeting between grandfather and grandson.