Scott Weiland
The Fillmore
Aug. 18, 2013
Much like Scott Weiland's career in recent years, his performance at the Fillmore on Aug. 18 as part of his "Purple to the Core Tour," was a bit of a roller coaster. There were moments when Weiland shined and looked like the frontman of old, and then there were WTF? moments that had some people in the crowd leaving early and others simply signaling a thumbs down.
It started off with plenty of promise. Weiland hit the stage just 20 minutes late - a far cry from the 30-minutes to 1-hour average of previous tour stops. Wearing a vest over his shirt and tie, Weiland appeared relaxed and in a good mood as the band kicked off with "Crackerman" from Stone Temple Pilots' debut album, Core. It was followed by "Meatplow" from Purple, providing a solid one-two punch to start the show.
Weiland then stumbled through "Paralysis" from his solo album, Happy in Galoshes. His vocals were offkey - though a quick listen to the studio version isn't much better. He won the crowd back over with the STP song "Big Empty," before again losing the crowd with a weak cover of David Bowie's "The Jean Genie."
That was the trend of his one-hour performance - his vocals would shine and then he'd go a bit off the rails. His band was competent, but it was Weiland who was clearly the center of attention. Making the most of the small stage, he danced his way around his bandmates, the Wildabouts, stood on top of amps at the front of the stage and played with a theremin near the drum kit.
It was hard not to notice the lyric monitor at the front of the stage, and Weiland's desperate attempts at showing range which came across as oversinging at times - too much vibrato, holding notes for too long - but for the most part, he was energetic and spot-on with the vocals during uptempo tunes.
He went on a brief rant about the lack of merchandise on his website - there was also no merch at the show - before comparing his band, Scott Weiland and the Wildabouts, to Tom Petty and the Heartbreakers... I'm sorry Scott, but people were there to hear STP tunes. The only solo tune was a catastrophe. It's great you're working on another solo album, but, as evidenced by the less-than-half-full Fillmore on Sunday night, people aren't clamoring to hear it.
His cover of Jane's Addiction's "Mountain Song" was admirable, but the Doors' "Roadhouse Blues" was lackluster. They even skipped going into "L.A. Woman," as planned, before closing the night with "Unglued." There was no "Sex Type Thing," no "Wicked Garden," no "Creep" or "Plush" from Core. No "Interstate Love Song" from Purple.
It wasn't the trainwreck some people expected, but it wasn't impressive either. Weiland is a great rock frontman, but the rumors of drugs and alcohol are weighing him down. I couldn't say he was clearly under the influence or stone sober, but he did get lost trying to exit the stage. His performance was too much of a "I don't need those other guys" attempt which simply fell short of its goal.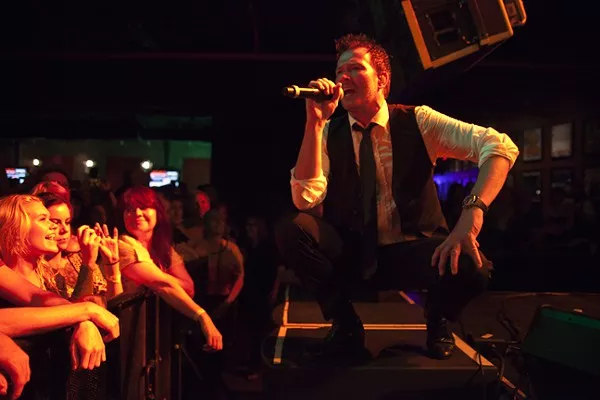 Setlist
Opening jam
Crackerman
Meatplow
Paralysis
Big Empty
Jean Genie
Kitchenware & Candy Bars
Where the River Goes
Mountain Song (Jane's Addiction cover)
Can't Stand Me Now
Vasoline
Dead & Bloated
Encore
Roadhouse Blues (Doors cover)
Unglued