Editor's note: In this series, local author David Aaron Moore answers reader-submitted questions about unusual, noteworthy or historic people, places and things in Charlotte. Submit inquires to davidaaronmoore@gmail.com.
I was sad to hear that Charlotte's annual Thanksgiving Day parade had seen its last procession. Then the news announced it was back on again! What's the history behind the long-standing institution? - Bud Johnston, Pineville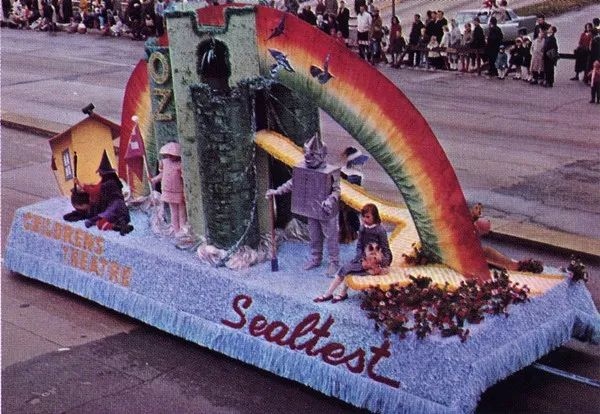 Robinson/Spangler Carolina Room of the Charlotte Library
An award-winning float from 1967.
A lot of people were very saddened by the announcement - myself included. Fortunately, Novant Health stepped in to fund the much acclaimed city tradition, which Belk had sponsored for years.
The brainchild of four Charlotte businessmen - Earl Crawford, P.H. Batte, W.S. Lupo and Charles Dudley - the Charlotte Thanksgiving parade was born in the autumn of 1947. Weeks later, the first parade took to the streets. It wasn't actually until 1950 that the event adopted the name Carolinas Carrousel, which included the parade and surrounding celebration.
In its earlier years, Carolinas Carrousel included pre-parade events like beauty pageants, performances by local and national entertainers, balls and various festivals. It was designed to attract local residents and others in North and South Carolina to visit what was then called Charlotte's "downtown" around Christmas. The hope was that big bucks would be spent at retailers like Belk, Montaldo's, Ivey's, Efird's and S. H Kress & Company, among others.
"It was a magical time when I was a child," said Janet Boyd, 62, who grew up in Dilworth and is now living in Houston. "After Thanksgiving dinner, my mom and dad would take me and my brother into town for the parade. All of the streets were decorated for Christmas, and the department stores would have beautiful window displays. There were floats, fire trucks, marching bands, cowboys on horses, clowns and one year I remember there was even an elephant. Everybody was always just so happy."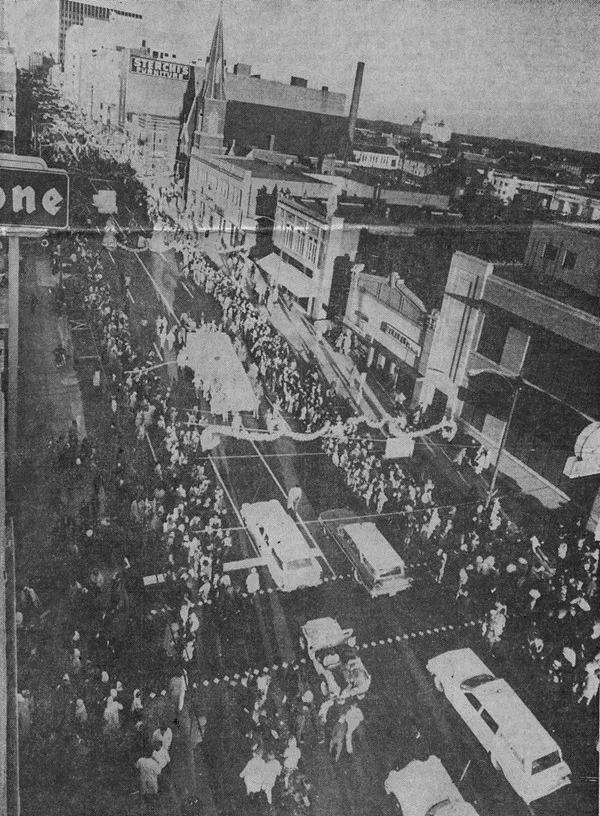 Robinson/Spangler Carolina Room of the Charlotte Library
A microfilm screen capture from the Charlotte Observer shows tens of thousands of Charlotteans celebrating Thanksgiving Day in 1958.
Text from a flyer printed in the late 1950s captures the mindset of the day: "The eve of Thanksgiving rings in the Royal Society of the Knights of the Carrousel Coronation and Ball. There the King and Queen are crowned and reign throughout the Carrousel. The Knights, their ladies and guests, feast on an exotic buffet and dance to bewitching music beneath the splendor of the dome of Charlotte's famed coliseum."
But much has changed for the Carolinas Carrousel Parade over the past 66 years. According to board member and treasurer David Suddreth, the day of knights and ladies are long gone.
"There isn't all that dancing, feasting and bewitching going on, either," he said, laughing. "But there are scholarships given out to students for academic achievement and a Thanksgiving Eve scholarship presentation that takes place. The emphasis has definitely changed since that time."
While the parade that so many Charlotteans grew up with in the mid 20th century isn't quite the same as it used to be, we're lucky that a couple of local politicos and a healthcare company threw their hat into the ring to keep it going.
Last year it attracted over 100,000 attendants and was recognized by US News & World Report as one of the country's best Thanksgiving Day parades. It's one of only a few annual Charlotte traditions that seem inconceivable to lose.
On a more personal note: As a teenager working for Belk, I once assisted with the construction of a float on a rainy evening prior to the day of the parade. I accidentally stepped on a damp and frayed electrical cord on the lot that was supplying power to some overhead work lights. The experience literally blew me off my feet. I recovered, of course, but declined future invitations to help build floats.
Moore is the author of Charlotte: Murder, Mystery and Mayhem. His writings have appeared in numerous publications throughout the U.S. and Canada.