Muse w/ Cage the Elephant
Time Warner Cable Arena
Sept. 3, 2013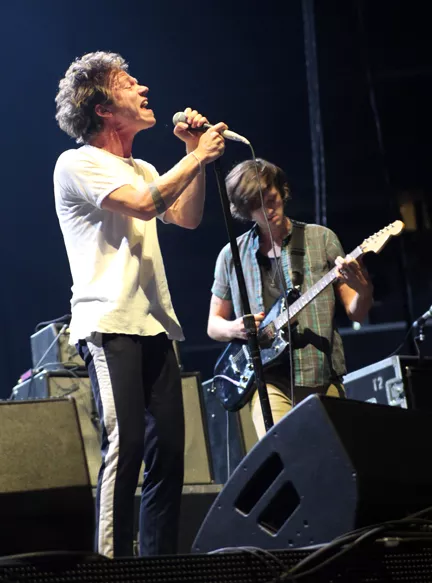 I think there's a rule, sometimes, that opening acts don't get full use of the headliner's setup. They rarely get the same lighting and are often relegated to a small section of the stage instead of the full use of any ramps or extras. Sure, on Tuesday night at Time Warner Cable Arena, Cage the Elephant had sparse lighting, but singer Matt Shultz gave a proverbial middle finger to anyone who may have suggested that he couldn't use the full expanse of the stage (and arena floor).
Shultz bounced around the stage like Tigger - leaping from higher sections to the stage, from the stage to the floor - screamed, danced, sang and gave a stunning clinic on "This is how you warm up a crowd." The band rifled through songs from its first two albums and upcoming third release as it rocked, rolled and woke concert-goers up from any stupor they may have been in.
Shultz's brother, Brad, is off the tour for a couple weeks while his wife gives birth, but his replacement did a fine job filling in where needed. Early on, there were a few sound difficulties, and Shultz wasn't able to wander as his microphone cord got tangled, but the band simply didn't care and soldiered on until the glitches were fixed.
The singer found a couple of opportunities to leap into the crowd - surfing along and being held in a standing position to sing a few verses. Not one moment of it felt forced - it looked like the Kentucky indie rockers were simply having a blast on the opening night of the tour. While the arena was roughly half-full - the upper deck was curtained off and there were plenty of empty seats - many sang along to "Ain't No Rest for the Wicked," "Shake Me Down" and "In One Ear." By the time the sextet's 45-minute set was up, the crowd was good and primed for English prog-rockers Muse to take the stage.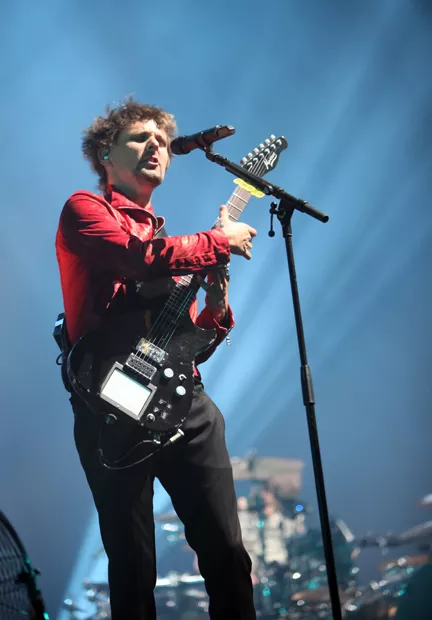 Performing a nearly two-hour set, Muse offered a stunning light show, driving bass rhythms, heavy-handed drumming, soaring guitar solos and plenty of crowd favorites. But, song after song, I just couldn't ignore the growing feeling that I was simply bored.
Muse singer Matt Bellamy is a classically trained musician; his guitar work shows speed and versatility and the band as a whole can create massive soundscapes not often heard by a trio. The problem is that it didn't quite add up to incredible songs that I want to sing along with or really even hear more than once.
Compared to the studio versions of Muse's songs, the energy within the live performance was greater. I watched Bellamy belt out notes with incredible range, but it felt like he was over-acting when he dropped to his knees. At times, bassist Christopher Wolstenholme appeared nearly as bored as I felt. Drummer Dominic Howard looked like he was at a completely different gig, hammering away like he was trying out for a Nirvana cover band. But the sum of the parts never seemed to add up. Perhaps the members of Muse are the British answer to Rush - people either love them or don't understand what the big deal is. I fall into the latter category.
Songs like "Madness" surged in the live setting, but there were too many times I wanted Bellamy to just stop whining and get to the point with his lyrics. As I looked around at the crowd, I noticed one out of every five people taking photos and videos with their cell phone, two out of five were singing along to every word and the other two remained seated looking bored, likely dragged there by a significant other.
When a semi-circle of LED screens surrounded the band and a pyramid of screens above the stage flashed images of the crowd and the live performance at a blistering, ADD pace, I wondered, "What's the hurry?" Why aim so many cameras on the band and crowd, but not offer a clear way to see the images for more than a split second?
I know, I know - Muse has sold more than 18 million albums worldwide and plenty of people love them, but I can also see why the arena was only half full. A good number of the band's songs - falsetto vocals, electronic soundscapes, drawn-out choruses - are an acquired taste. For two hours, I missed the energetic honesty of Cage the Elephant's performance and wished it was the band giving an encore.
Muse setlist
The 2nd Law: Unsustainable
Supremacy
Panic Station
Supermassive Black Hole
Plug In Baby (Guns N' Roses' Sweet Child O' Mine outro)
Resistance
Hysteria (Star Spangled Banner intro)
Knights of Cydonia (Ennio Morricone's Man with a Harmonica intro)
Monty Jam
United States of Eurasia
Follow Me
Liquid State
Madness
Time Is Running Out
Undisclosed Desires
Stockholm Syndrome
Agitated (Rage Against the Machine's Freedom outro)
The 2nd Law: Isolated System
Uprising (Extended outro)
Encore
Starlight
Survival