As Yelitza Castro, an undocumented local housekeeper, and her children drove through Charlotte one cold, rainy day in 2010, they saw a man on the street holding a sign asking for help. Castro gave him $5 and drove off. When her children asked if they could take him out to dinner, Castro drove back, but the man had already left. That motivated the family to serve others.
Last week, the nationally syndicated NPR program "Morning Edition" picked up the StoryCorps piece about Castro who, with her children, has served countless meals to local homeless men since 2010.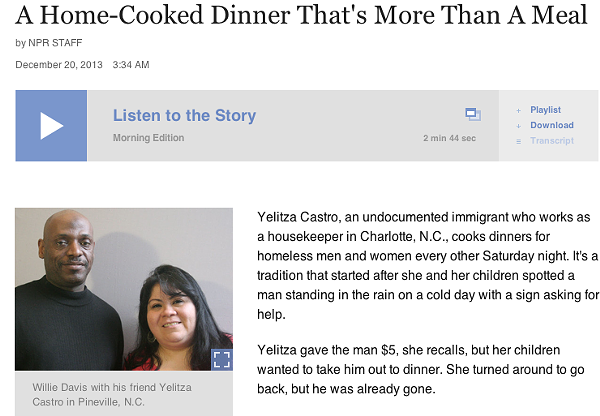 Willie Davis remembers the first meal Castor cooked for them, Christmas Day 2010. When he first saw her at the Men's Shelter, he thought, "why is this lady coming to the roughest place in Charlotte to do this for us?"
Then, "I smelled the cooking and I saw you, saw the smile on your face," Davis tells Castro during the story. "When you cooked, it was just like what moms used to cook ... I needed that."
Listen to the short but touching piece here.