On Thursday, Duke Energy asked the city co-review a proposal it has to transfer all the coal ash it keeps in an unlined pond at Riverbend Steam Station to Charlotte's airport. Duke would hire Charah, a company that specializes in repurposing coal ash into building material, to move the approximately 4 million tons near Mountain Island Lake to the airport and turn it into fill material for future infrastructure projects. Following the Dan River spill, an N.C. judge ordered Duke to halt groundwater pollution associated with unlined coal-ash containment. Environmental groups and others have used the ruling to pressure Duke into moving coal ash - the nasty by-product of burning coal for energy - out of unlined ponds that dot the state.
Does this mean the airport will soon feature a pool of toxic sludge that tourists can photograph from the air? No (but imagine the mutant lizards!).
Charah would essentially transfer the coal ash into a lined site on the airport's property, cover it and top it with soil.
Here are four things you should know about the proposal: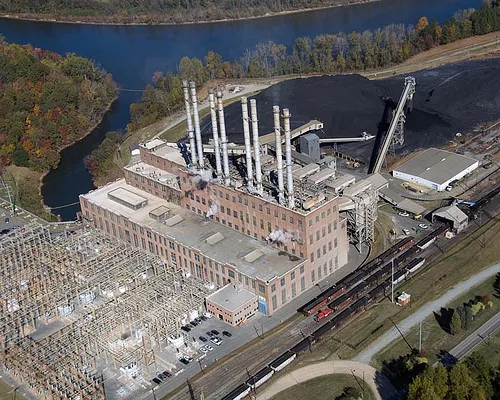 Duke Energy (flickr)
Riverbend
1. This project will move millions of tons of coal ash inside city limits. What are the health risks? Will Charah and/or Duke regularly inspect the soil around the lined basin for toxins? City Council will have the chance to ask such questions during the March 24 council meeting. Representatives from Duke Energy and environmental groups, including the Catawba Riverkeeper, will be given equal time to discuss the project's details.
2. Typically, fill for airport projects is just dirt transferred from one part of the airport to another. Using coal ash instead would save Charlotte-Douglas money. "There are a lot of capital projects that could benefit from this," says Jack Christine, interim deputy aviation director at Charlotte-Douglas. Just how much is yet to be determined. Also yet to be determined is which projects would utilize the fill. Christine says environmental concerns will be addressed before savings.
3. If council doesn't kill the project during the March 24 meeting, a "due diligence review" will begin. City staff says they'll look into the environmental implications, as well as collect community concerns through various town hall meetings. Robert Phocas, the city's energy and sustainability manager, says it will be a transparent process that could take weeks or months to complete.
4. Christine visited a similar project at the Asheville airport, which city officials there described as a "positive" for the city. A South Carolina electric company has repurposed about 80 percent of its coal ash into cement that has made its way into infrastructure around the state.