Duke Energy's proposal to move coal ash from its Riverbend Steam Station to Charlotte's airport will meet its first hurdle today. Charlotte City Council will meet at 4 p.m. to decide whether to move forward with a "due diligence" review of the project.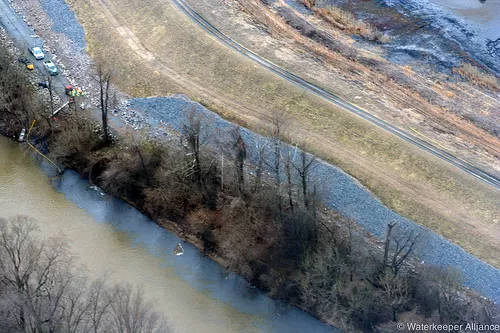 WATERKEEPER ALLIANCE/RICK DOVE (FLICKR CREATIVE COMMONS)
The coal-ash spill into the Dan River
The plan is for Duke to use Charah, a company that specializes in repurposing coal ash into building material, to move the approximately 4 million tons near Mountain Island Lake to the airport and turn it into fill material for future infrastructure projects. Following the Dan River spill, an N.C. judge ordered Duke to halt groundwater pollution associated with unlined coal-ash containment. Environmental groups and others have used the ruling to pressure Duke into moving coal ash - the nasty by-product of burning coal for energy - out of unlined ponds that dot the state.
Representatives from Duke and Charah, as well as environmentalists (Catawba Riverkeeper), will present their ideas to council, which will direct the city manager on how to proceed with the project.
Here's an outline of today's meeting: