Just because Charlotte nerdy jewel HeroesCon is over, it doesn't mean that the comics have stopped flowing. On the contrary, several books from writers and artists who attended the con are coming out this week. And even though our Title You Can't Miss didn't have any attending creators, it did have a great cosplayer to represent it.
Mike Dickens, of Greensboro, came as Saga villain Prince Robot IV with an impressive costume, complete with a working screen. Saga #20 hits shelves this week, so consider this a visual reminder to check it out. A lot of love went into the making of this one.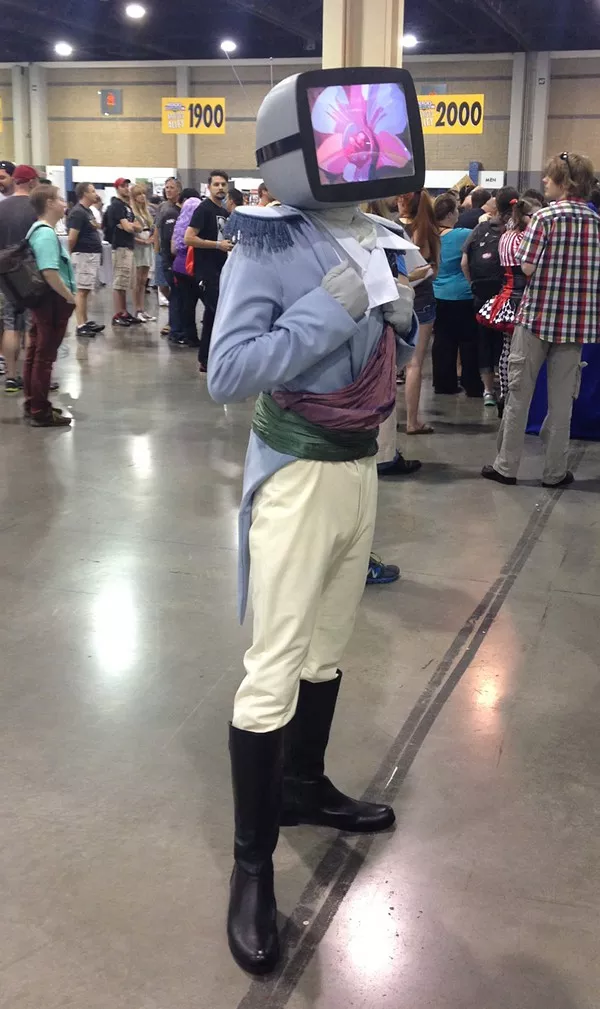 Speaking of love, one thing you may have missed from HeroesCon: Attendee Kirk Kiefer proposed to his girlfriend during the Sex Criminal Sunday panel. He even got the comic's creative team, Chip Zdarsky and Matt Fraction, in the action. Read the full story on Kiefer's blog, here.
Now, on to the new titles.
DC Comics
ACTION COMICS #31 2ND PTG (DOOMED)
ADVENTURES OF SUPERMAN #14
ALL STAR WESTERN #32
AQUAMAN #32
BATMAN #32 (ZERO YEAR)
BATMAN #32 COMBO PACK (ZERO YEAR)
BATMAN 66 #12
BATMAN BEYOND UNIVERSE #11
BATMAN DETECTIVE COMICS HC VOL 04 THE WRATH (N52)
BATMAN DETECTIVE COMICS TP VOL 03 EMPEROR PENGUIN (N52)
BATMAN ETERNAL #12
BEFORE WATCHMEN OZYMANDIAS CRIMSON CORSAIR TP
CATWOMAN #32
DEAD BOY DETECTIVES TP VOL 01 SCHOOLBOY TERRORS
FLASH #32
HARLEY QUINN #0 DIRECTORS CUT
HE MAN AND THE MASTERS OF THE UNIVERSE #14
INJUSTICE GODS AMONG US HC VOL 02
INJUSTICE GODS AMONG US TP VOL 01
INJUSTICE GODS AMONG US YEAR TWO #6
JUSTICE LEAGUE #31
JUSTICE LEAGUE #31 COMBO PACK
JUSTICE LEAGUE DARK #32
LARFLEEZE #12
NEW 52 FUTURES END #8 (WEEKLY)
RED LANTERNS #32
SECRET ORIGINS #3
SINESTRO #3
SUPERMAN #32
SUPERMAN #32 COMBO PACK
SUPERMAN DOOMED #1 2ND PTG
SUPERMAN WONDER WOMAN #8 2ND PTG (DOOMED)
TOM STRONG AND THE PLANET OF PERIL TP
Marvel Comics
ALL NEW DOOP #3
ALL NEW GHOST RIDER #4
ALL NEW ULTIMATES #4
AMAZING SPIDER-MAN #3
AVENGERS AI TP VOL 02 12000 AD
AVENGERS UNDERCOVER #6
DEADPOOL VS CARNAGE #4
DEXTER DOWN UNDER #5
FANTASTIC FOUR #6 SIN
GUARDIANS OF GALAXY #16
MARVEL UNIVERSE ULTIMATE SPIDER-MAN #27 SYU
MMW HUMAN TORCH TP VOL 01
MS MARVEL #5
NEW AVENGERS #20
NEW AVENGERS ANNUAL #1
NEW AVENGERS PREM HC VOL 03 OTHER WORLDS
NEW WARRIORS #6
ORIGINAL SIN #3.1
ORIGINAL SINS #2
SAVAGE HULK #1
SPIDER-MAN SPECTACULAR #1
SUPERIOR SPIDER-MAN TEAM-UP TP VOL 02 SUPERIOR SIX
UNCANNY AVENGERS #21
UNITED STATES OF MURDER INC #1 2ND PTG OEMING VAR
WHAT IF TP AGE OF ULTRON
WOLVERINE #9
X-FORCE #6
X-MEN TP VOL 02 ROAD TO ONSLAUGHT
Dark Horse Comics
CAPTAIN MIDNIGHT #12
CONAN THE AVENGER #3
DREAM THIEF ESCAPE #1
EMILY & THE STRANGERS BREAKING RECORD #1
FRANK MILLERS BIG DAMN SIN CITY HC
GHOST #5
GOON ONE FOR THE ROAD ONESHOT
HALO ESCALATION #7
KING CONAN CONQUEROR #5
MASS EFFECT FOUNDATION #12
MASSIVE #24
MASSIVE TP VOL 03 LONGSHIP
MIND MGMT #23
OCCULTIST TP DEATHS DOOR
PARIAH #5
SERENITY LEAVES ON THE WIND #6
SIN CITY A DAME TO KILL FOR HC
STAR WARS LEGACY II #16
STAR WARS REBEL HEIST #3 HUGHES MAIN CVR
TARZAN BURNE HOGARTHS LORD OF JUNGLE HC
TOMB RAIDER #5
VANDROID #5
IDW Publishing
24 #3
7TH SWORD #3
CARTOON NETWORK SUPER SECRET CRISIS WAR #1
CARTOON NETWORK SUPER SECRET CRISIS WAR #1 SUBSCRIPTION
GHOSTBUSTERS #17
GI JOE SPECIAL MISSIONS TP VOL 03
GODZILLA RULERS OF EARTH TP VOL 03
GODZILLA RULERS OF THE EARTH #13
ILLEGITIMATES #6
LIBRETTO TP VOL 01 VAMPIRISM
LOCKE & KEY SPEC ED HC VOL 03 CROWN OF SHADOWS
MARS ATTACKS FIRST BORN #2
MY LITTLE PONY FRIENDS FOREVER TP VOL 01
MY LITTLE PONY FRIENDSHIP IS MAGIC #20
TMNT NEW ANIMATED ADVENTURES #12
TMNT NEW ANIMATED ADVENTURES #12 LEGO CVR
TRANSFORMERS MORE THAN MEETS EYE #30 DAWN O/T AUTOBOTS
TRANSFORMERS SPOTLIGHT DRIFT DIRECTORS CUT
TRANSFORMERS WINDBLADE #3 DAWN O/T AUTOBOTS
V-WARS #1 2ND PTG
X-FILES SEASON 10 #13
Image Comics
CHEW #42
COWL #1 2ND PTG
COWL #2
DEAD BODY ROAD TP
DEADLY CLASS #6
DREAM POLICE #3
FUSE #5
INVINCIBLE #112
MERCENARY SEA #5
OUTCAST BY KIRKMAN & AZACETA #1
PETER PANZERFAUST #19
REVIVAL #21
SAGA #19 2ND PTG
SAGA #20
SEX #14
SKULLKICKERS #28
SOUTHERN BASTARDS #2 2ND PTG
SOVEREIGN #4
STRAY BULLETS THE KILLERS #4
TREES #2
UNDERTOW #5 CVR A TRAKHANOV
UNDERTOW #5 CVR B RINGUET