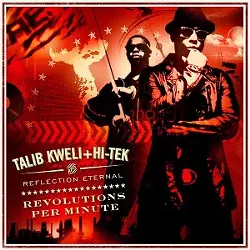 The Deal: Talib Kweli & Hi-Tek team up for the first time in a decade for new Reflection Eternal album.
The Good: Can't even begin to describe just how good Hi-Tek was on this album. Producing every track, he managed to be soulful, dope, at times anthemic, experimental and precise. Just good hip-hop from behind the boards, he was definitely in a good grove.
Kweli was in rare, but expected, form as well. I was truly impressed that he was able to take some of the things that made his last solo album, Eardrum, his most commercially successful. Lots of standout tracks on the album. "Strangers (Paranoid)" which captures the flame from their previous cuts together over a crazy beat. "In This World" cleverly chops up Jay-Z's line on "Moment of Clarity" where he admits, lyrically, he'd be more like Kweli. "Midnight Hour" with Estelle conjured images of Amy Winehouse meeting the Star Wars Cantina Band, seriously, I don't know why. While "Ballad of the Black Gold" was eerily current and relevant with the oil spill in the Gulf Coast and also featured one of the hardest beats on the project.