Patty Griffin Tribute
Evening Muse
July 14, 2010
On July 14, 2010, the inaugural Patty Griffin Tribute Night was held at the Evening Muse. A good number of Charlotte-area musicians gathered to pay tribute to the singer-songwriter in front of a packed house.
Among those performing were Reeve Coobs, Miranda Reger, Andrea McGhee, Amissville, Donna Duncan, Etta Lea, Eva Gael, Wavy Space, Jess Mitchell and a bunch more. A house band, dubbed the Silver Bells, included John Tosco, Arrie Bozeman and Joe Kuhlman.
With singalongs and good participation from the crowd and artists, organizer Lea Kuhlmann hinted that they just might do this again next year.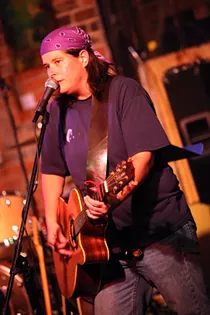 14 slides
Setlist
Love Throws a Line - Reeve Coobs & The Silver Bells
Long Ride Home - Jeremy Mohr
Be Careful - Miranda Reger
Rain - Amissville
Up to the Mountain - Donna Duncan & The Silver Bells
Moses - Singalong
Let Him Fly - Leslie Cook
Every Little Bit - Reeve Coobs
Time Will Do the Talking - Sleep Til Noon
Mad Mission - Singalong
Poor Man's House - Etta Lea
Forgiveness - Wavy Space
You Never Get What You Want - Sleep Til Noon
Sweet Lorraine - Singalong
Not Alone - Etta Lea
Trapeze - Andrea McGhee
Goodbye - Shana Blake
Tony - Eva Gael
Nobody's Crying - Jess Mitchell
No Bad News - Arrie Bozeman
Mary - Amissville
Kite Song - Jeremy Mohr
One Big Love - Wavy Space
Making Pies - Miranda Reger
Useless Desires - The Near Misses
When It Don't Come Easy - John Dungan & The Silver Bells
Top of the World - Shana Blake
Heavenly Day - Donna Duncan & The Silver Bells