Brandi Carlile w/ The Secret Sisters
Knight Theatre
Nov. 11, 2011
"I've been looking forward to this show for the entire tour so far," Brandi Carlile told a sold-out Knight Theatre crowd. "I thought I'd be playing in coffee houses and small places for a few people and you sold out the McGlohon Theatre so they had to move it to a bigger venue. It's amazing."
Carlile hit the stage dressed in black, a silk scarf around her neck, as she rolled through song after song during her solo performance. Her vocals held the spotlight for the duration of the night — from the opening notes of "Follow" through an a capella version of "What Can I Say" to the final encore. While she mentioned her missing bandmates — Tim and Phil Hanseroth — a few times, Carlile also noted that this solo tour has been a good idea and one she was initially hesitant to do.
Carlile switched guitars often, and also found time to perform at a grand piano set up behind her for a couple of songs, including "Before it Breaks." She walked to the front of the stage, sans microphone, to perform "What Can I Say," telling the crowd she sings one song that way each night to bring the room closer together.
Her set, interspersed with anecdotes and comments, also included a couple of new songs, "Raise Hell" and "Keep Your Heart Young." An outstanding cover of Patsy Cline's "Crazy" was preceded by "Turpentine," which included a moment of three-part harmony in the crowd, conducted by Carlile. Throughout the night, the crowd had a powerful energy that sang along — the strongest during "The Story" — and occasionally danced.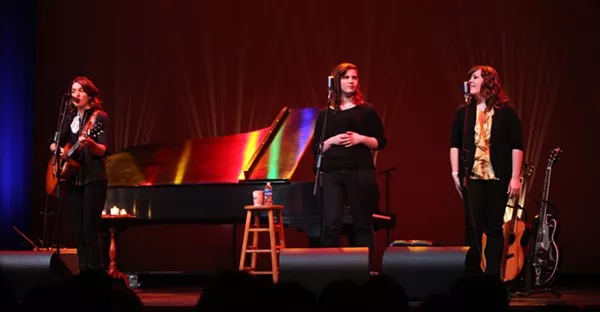 Opening act, The Secret Sisters, joined Carlile a couple of times and added a bit of depth to the vocals. After joining on Carlile's new song "Raise Hell," the Alabama duo performed their own song, "In the By and By" with Carlile backing them.
Though Carlile initially asked the crowd to shout out songs they wanted to hear, Carlile's setlist was the same as it has been all tour, minus a couple of tunes in the encore. Despite numerous calls for her rendition of "Hallelujah," it wasn't to be heard on this night. Those desires might have been canceled out by an absolutely stunning closer of "Amazing Grace" performed with The Secret Sisters in complete darkness, as only candles glowed behind the trio.
Despite nearly 1,200 people packing the seated venue, the entire show had an intimate feeling. The crowd was appreciative of every word, focused on every note played and left craving more.
Setlist
Follow
Dreams
Throw It All Away
Before It Breaks
It's Over (Roy Orbison cover)
What Can I Say
Looking Out
Downpour
Raise Hell (with The Secret Sisters)
Keep Your Heart Young
In the Sweet By and By (The Secret Sisters w/ Brandi backing vocals)
Turpentine
Crazy
The Story
Encore
Cannonball
Pride and Joy
Amazing Grace (with The Secret Sisters)