Sugarland w/ Dave Stewart
Verizon Wireless Amphitheatre
April 27, 2012
Halfway through Sugarland's set on April 27, 2012, Jennifer Nettles bathed in the spotlight and belted out the band's Grammy winning song, "Stay." Full of emotion and appearing on the verge of tears, Nettles showed vocal range and strength as the crowd sang along to every word. The show could have ended right there. Instead, the country crossover duo honored a few more requests before calling it a night as Charlotte's Verizon Wireless Amphitheatre kicked off its summer season.
The duo, Nettles and guitarist Kristian Bush (along with a full backing band), honored just about every song request that came their way as they put on a show that was completely for the fans. Appropriately titled the "In Your Hands" tour, Sugarland's fans got a sweet taste of the hits along with some more obscure tunes and covers. Having already toured in support of their 2010 album, The Incredible Machine, this tour is purely for the love of performing.
Starting out as a duo, Nettles hammered on a drum as she sang "Wide Open" to start the night off. The band then kicked in for "Stuck Like Glue," followed by "Settlin'." Lingering far longer on the pop side of country, the duo shouted out a number of fan dedications and later invited a 9-year-old up to sing with them on "Baby Girl." As Nettles pointed out, she was already singing along to every word and didn't shy from the bright lights once she hit the stage.
One of the tour favorites has been a cover of Def Leppard's "Pour Some Sugar on Me," which the band covered admirably and toward the end of the night, the band challenged Nettles to sing "Ice Ice Baby" - the one song I could have done without, though she laughed through it in good fun. They also started their encore with a cover of R.E.M.'s "The One I Love" done in pure Sugarland style.
The strength here is the voice of Nettles who could sing the phone book and bring a crowd to tears. She playfully dances her way around a stage, knows when to draw a crowd in and when to let her voice do all the talking.
Originally a side project of the now-defunct Jennifer Nettles Band, Sugarland quickly became one of the top country acts with an appeal that crosses genre and age lines and this night was no different. Maybe next time around, someone can request Nettles sing something from the dictionary just to see how that goes...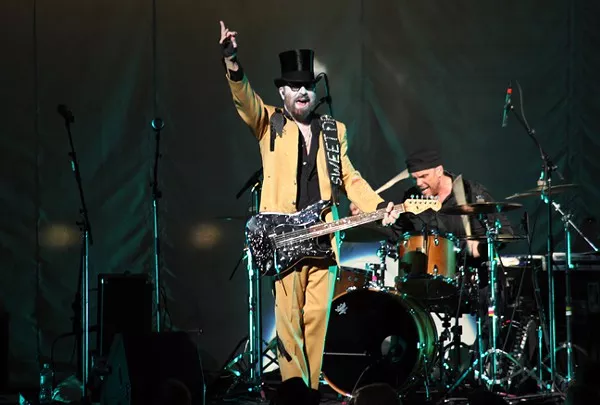 Earlier in the night, Dave Stewart offered a 45-minute opening set that quickly warmed the crowd over. The former Eurythmic played a couple of familiar tunes including "Don't Come Around Here No More," which was written with Tom Petty, and updated versions of '80s classics "Here Comes the Rain Again" and set-closer "Sweet Dreams."
Sugarland Setlist
Wide Open
Stuck Like Glue
Settlin'
Everday America
It Happens
Tonight
Pour Some Sugar On Me
Little Miss
Every Girl Like Me
Already Gone
Run
Incredible Machine
Stay
Love
Baby Girl
All I Want to Do > Ice Ice Baby
Find the Beat Again
Encore
The One I Love
Something More
Sugarland