Having seen Phish perform a number of times since the early '90s, I've noticed things have changed a bit since those days. Here's a quick rundown of what I witnessed at the Phish show at Verizon Wireless Amphitheatre on Aug. 26, 2012: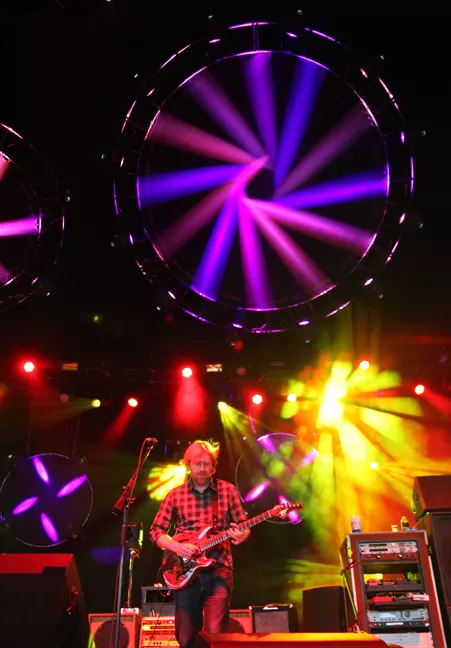 1 — The old standard of hippies wearing patchouli to cover up the stank of armpits has apparently gone away, but unfortunately it has not been replaced by deodorant.
2 — Females of the hippie variety aren't as likely to leave their legs unshaved — the hair has now been replaced by tattoos.
3 — Gone is the jingling jewelry that would chime in as people danced. It's been replaced by piercings of every kind... but metal against skin doesn't have the same ring to it.
4 — :::Old man's voice::: Back in my day, "Fluffhead" was the mecca of Phish songs and people would go nuts when they heard it. In Charlotte, not so much. Some glow sticks were thrown in the air and there was a hefty singalong inside the amphitheatre but the people on the lawn danced like they would any other rolling tune by Vermont quartet.
5 — Phish fans still love a long, noodling guitar solo.
Setlist
Set 1: AC/DC Bag > The Moma Dance > Heavy Things, Ocelot, Funky Bitch > Bathtub Gin > Fluffhead > Alumni Blues > Letter to Jimmy Page > Alumni Blues, Tube, My Sweet One, David Bowie
Set 2: Crosseyed and Painless > McGrupp and the Watchful Hosemasters > Mike's Song[1] > Bouncing Around the Room, Axilla > Tweezer > Harry Hood > The Horse > Silent in the Morning > Weekapaug Groove, Suzy Greenberg[1]
Encore: Big Black Furry Creature from Mars, Tweezer Reprise