Janoskians
The Fillmore
Sept. 23, 2014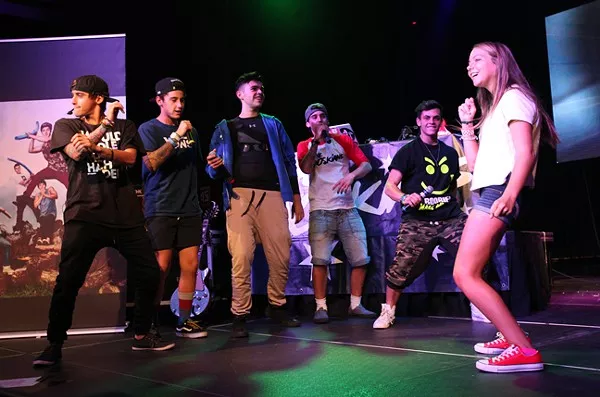 Janoskians and one of the dance battle contestants.
Perhaps one Facebook commenter summed it up best when she read The Janoskians were coming to the Fillmore. "What are they going to do?" she asked.
The Janoskians (Just Another Name Of Silly Kids In Another Nation) are a comedy YouTube quintet from Australia that's known for Jackass-like pranks and boy-band-esque songs. So, what do they do live? I'd say not much.
Members Beau Brooks (21), Daniel Sahyounie (19) and James Yammouni (18) hit the stage first for a short DJ set — they played a bunch of hit songs, got the crowd to sing along and filmed themselves with the audience. The few hundred teenage girls in attendance screamed nonstop.
This tour is called the "Got Cake" Tour. If the humorous lyrics are any indication, The Janoskians, who have a song called "Real Girls Eat Cake," want girls who eat cake, not worry about having a thigh gap. So, it should be no surprise that the crowd was shouting "We Want Cake" before the Janoskians took the stage. I was, however, taken aback when I saw a teenage girl holding a sign that read, "Eat My Cake." After all, a lot of these girls were dropped off at the show by a parent.
It was clear from the opening savvy of profanity and profane imagery that these guys aren't like other "boy bands." They don't identify as one. Most of them were rarely singing into their microphones — which may not have been turned on — and attempts at choreographed dance moves were laughable. But maybe that's the point?
In the grand scheme of five young guys on a stage singing songs, Janoskians — the three previously mentioned along with twins Luke and Jai Brooks — were a refreshing change. That is, if you weren't looking for anything serious, didn't mind the endless stream of unfunny videos in the background and didn't expect them to sing songs live.
But I had to wonder why all of the girls in attendance were drooling over this quintet. Not only did their dancing suck, but their onstage banter tended to ramble. They asked five attendees to participate in a dance contest on stage, though none of them appeared very excited to dance or receive a kiss as the prize.
However, at one point a girl behind me yelled, "That's my future husband!" while a video of the boys was being shown — that could be expected. But during an opening video that included a fake infomercial, screams rang out loudest when "gold dildos" were advertised and one girl even clearly yelled out "Fuck me!" while the Janoskians "performed" a song.
Performed might be overstating it. It seemed like these guys were just out there to kill time, make a few bucks and have a little fun. They appeared bored with the singing/lip-synching, some segments felt forced, and the videos were little more than time killers.
Is this where things are headed in entertainment? If so, I fear for my daughter's future. I'd say the guys should stick to making silly videos for YouTube and leave the on-stage, live entertainment to people who are better suited for it.
"Setlist"
DJ Set
Movie
Best Friends
Dorito
Dance Battle
This Freaking Song
Punch Your Mom in the Face
Let It Go
Fan Fiction
Dorito
RGEG
Janoskian Family Screwed
Beau "Best Mom" Speech
Milf Strip
Janoski Knife
That's What She Said
Take Group Photo
Say Goodnight
Encore
Best Friends