New York City doesn't sleep and nor did I for the 50 some hours I was there.
Tuesday morning I woke up in Charlotte at 6:15 a.m. with my flight leaving at 6 ... shit!
I literally jumped out of bed and basically threw a temper tantrum — everything short of laying on the floor kicking and wailing my arms. $200 pissed down the drain later, I sat down and shut the front door. I made a mistake — oh well!
I decided that rather than beating myself up about it, I should just chalk it up to fate. "A fate mistake." There was a legitimate reason I missed my flight ... and not just because I turned my alarm off rather than pressing the snooze button to try and sneak in that extra 9 minutes of sleep. At least that's what I keep telling myself.
click to enlarge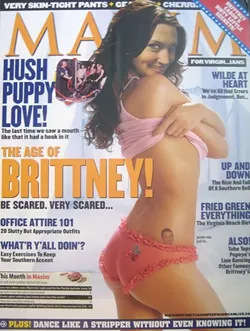 I flew to NYC for the MAXIM Magazine reunion party. As in the staff's five-year-reunion. I was enrolled in the Dennis Pub Club, Class of 2004. Because although I worked for Dennis Publishing right out of college, we played more than I did while in college. We even had a co-ed intramural softball team — that had multiple cases of PBR quietly confiscated by the Central Park security in the middle of the game. I even made the greatest 100 moments of MAXIM history ... (number 34) for winning a hush puppy eating contest. I ate my way to the middle.
Meanwhile, The Dennis Publishing newsletter looked like a high school year book with superlatives and all. In 1999, Harrisonburg High School coined me their "Biggest Flirt" and, in 2004, I was named "Friendliest" in the company ...
While the only thing consistent in life is its inconsistencies, some things never change. And at the 2009 reunion I was voted longest distance traveled to attend the party. People thought those coming in from the suburbs and over the bridge and through the tunnel were coming from a far away land — but my crazy ass flew in from Charlotte. What can I say? When am I ever going to get to see an entire collection of cohorts at the same place and time again?
And might I say it's some of the coolest, funniest, most talented collection of people I've ever been blessed to know, and go thru my Quarter Life Crisis with as a naïve small town girl in NYC – because of them I came out at least somewhat normal. That, and Jet Blue flights were only $69 ... you know, the one I slept thru.
The party was at Emmett and O'Lunney's located conveniently right around the corner of my Times Square hotel. I stepped out of my hotel and immediately flagged down a horse and carriage going by and asked him how much – like I was flagging down a cab. I somehow convinced him to give us a ride around the corner and pulled up like Romy and Michelle. After about 30 minutes of "What have you been doing?" questions we all decided that was what Facebook is for and just partied like it was 2004.
Another installment of Brittney's Random Revelations ...
And I do mean random. Speaking of Harrisonburg High School, my buddies from MAXIM on-line are still trying to figure out how I don't have seven arms or an eye in the middle of my forehead from eating there for four year after finding my old high school lunch menu on-line.