Cruzan hosted a "rum tasting" cruise on Lake Norman last night to promote their liquors. Having never attended a rum tasting, I expected something similar to a wine tasting – tables set with multiple glasses for tasting, some light food fare, an education in the production of rum to further guests' rum knowledge... You know, a somewhat structured, elegant affair. Ha. What was I thinking?
This rum tasting wasn't like that at all. What I did get was a two-story party boat complete with leather couches, ATM, Christmas lights, a live steel drum band, chips and dip, fried crab cakes and endless amounts of rum drinks. (I guess I should have had a hint of what was to come after the "shuttle" that was supposed to take us to the marina from Uptown ended up being the Ragin' Uptown party bus.)
click to enlarge
click to enlarge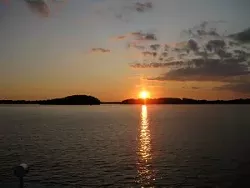 After a champagne/Cruzan rum mimosa toast, we were left on our own to party and mingle. The bar served only Cruzan rums and among the flavored ones were Coconut, Black Cherry, and Pineapple. Tired of rum and Cokes? Here are a few new drink recipes I learned last night from the bartenders:
If you want something fruity, but not-so-sweet, try mixing Cruzan Black Cherry rum with a little Sprite and seltzer water.
And for something crisp, try mixing Cruzan rum with ginger ale.
Though the tasting wasn't exactly what I expected, it was definitely fun. Forget wine tastings, I'm all about some boating around and tasting rums now.