The brunch buffet at Hotel Charlotte is ridiculous. It made my eyes bulge wide seeing the spread of biscuits and gravy, muffins, pancakes, Trailer Park Casserole, broccoli and sausage casserole, potato casserole, mac and cheese, and delicious fried chicken. You can get it all for little under $14.
If fat kid breakfast isn't your thing, there is always their regular menu too with eggs benedict, pancakes, salads, sandwiches and the like. I tried the Southern Salad with spiced roasted pecans, goat cheese, Parmesan, dried cherries, red onion and poppy seed vinaigrette. (Of course, along with a few bites of the rich casseroles from the buffet. Who could resist?) The poppy seed vinaigrette was absolutely delicious. Chef Andrew explained they make it fresh in house each day with a few simple ingredients.
Hotel Charlotte is an oldie, but goody. It's been around for more than 25 years.
Their Sunday brunch runs from 11 am to 3 pm. Check it out: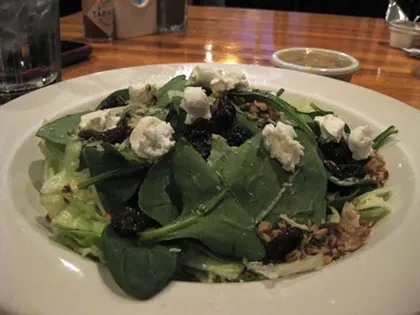 13 slides
Hotel Charlotte Restaurant
705 South Sharon Amity Road
Charlotte, NC 28211
704-364-8755