click to enlarge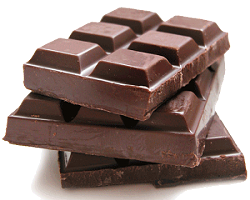 Ok, so I've been really slacking on my MIT Kitchen Chemistry course. It's been weeks and still haven't completed class #2, which is surprising, because this class is all about my favorite food – chocolate.
I've done my reading now and here are a few tidbits I learned from doing the homework questions:
* There is something common to both marijuana and chocolate.  Chocolate contains "cannabinoid" chemicals, chmicals similar to the active ingredient in marijuana, as well as other molecules that cause brain cells to accumulate cannabinoid chemicals.
* Though high in sugar and fat, you can justify eating chocolate in moderation from a health perspective.  The saturated fat in cocoa butter is a type of fatty acid that the body immediately converts to an unsaturated one, so it is actually beneficial to your heart. Eat up!
* The reason cats and dogs should not consume chocolate is because chocolate contains theobromine, an alkaloid and stimulant, which can be toxic to those animals.
The homework recipe for this week is "Death By Chocolate Cookie." If I get around to it, I'll try making it this week, but in the meantime, here's the recipe for those of you who want to try it.
Death By Chocolate Cookie
Adapted from a Baker's Chocolate Ad, Feb. 2000.
Ingredients:
1 package chocolate squares (8 ounces, 8 squares)
8 oz. (1 cup) Chocolate pieces
3/4 cup firmly packed brown sugar
1/4 cup butter or margarine
2 eggs
1 tsp. vanilla
1 cup flour
1 tsp. baking powder
2 cups chopped nuts (optional)
Method:
Heat oven to 350OF. Position the oven racks in the middle of the over or if there are multiple racks of cookies going in, put one rack in the bottom third and one rack in the top third of the oven.
Microwave 8 squares of chocolate in a large microwavable bowl with the butter on High for 1-2 minutes.
Stir until chocolate/butter mixture is melted and smooth
Stir in sugar, eggs and vanilla. Mix until smooth
Add the baking powder to the flour and mix. Then add the flour mixture to the chocolate mixture. Stir until smooth
Stir in chocolate pieces and nuts
Line cookie sheet with greased parchment paper.
Drop by tablespoon onto greased cookie sheet
Bake 8 minutes on bottom rack. Then rotate the rack and move to the top rack and cook for an additional 8 minutes. Cookies are done when they are puffed and feel set to the touch. It might require additional baking back on the bottom rack. You need to really watch the bottom baking to make sure you don't burn your cookies
Cool on cookie sheet 1 minute.
Transfer to wire rack or parchment paper to cool completely.
Makes about 2 dozen cookies.
Notes:
If you are not a chocoholic and wish to reduce the amount of chocolate, you can add white chocolate chips or just eliminate the chocolate chips