New at the N.C. Music Factory is the restaurant Bask, which opened to the public yesterday, Dec. 14.
Located in the main courtyard area, the restaurant features a gated-in patio area, prime for people-watching in the summer. On the interior, they have white leather booths and chairs, wood accents, unique lighting fixtures, and an open kitchen.
The menu is organized into small plates, soups and salads, medium plates, large plates, and desserts. Small plates include items like short rib samosas (photo below) and crab cakes.
Medium plates (~$11) are sandwich-type items served with a choice of fries, mashed potatoes, or veggies. And large plates, which range from $16 to $30, include steaks, salmon, pork chops, and chicken dishes.
In addition to wine and beer, Bask offers many specialty cocktails featuring vodka, gin, bourbon, and champagne. The Derby Punch, made with bourbon, was pretty good, but not very strong.
Ice cream flavors on the dessert menu change daily. The chef is known for his alcohol-infused ice creams, which have a very different texture. They're kind of icy, and upon first bite, they almost have the same mouth-feel as cake. Last night I got to sample the chocolate Guinness and the Jack and Coke flavors.
Bask is open for dinner Tuesday through Sunday.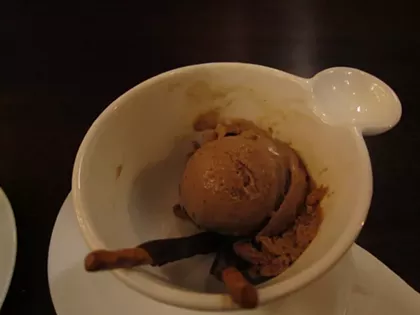 25 slides